Beer, Cheddar & Bratwurst Soup in Bread Bowls
Bread bowls make me think of San Francisco. Clam chowder in a bread bowl.
I'm really looking forward to when Dustin and I can finally make it out to Northern California together. It's on the top of my list of new places to visit (all of Europe excluded). Until we make it to San Fran, I'll eat my soup from homemade bread bowls.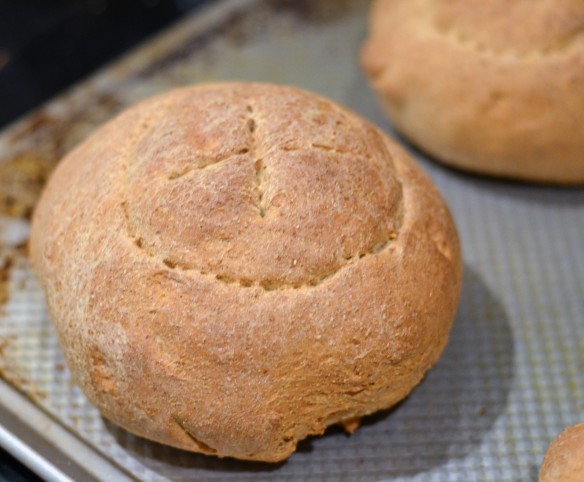 Although they take awhile to make thanks to the rising, they aren't hard, especially if you have a stand mixer to do the majority of your kneading.
This soup probably would have been more appropriate to make around Oktoberfest, but I just recently got around to making it. Oh well— it' still delicious on a chilly evening (and made better with a freshly baked bread bowl).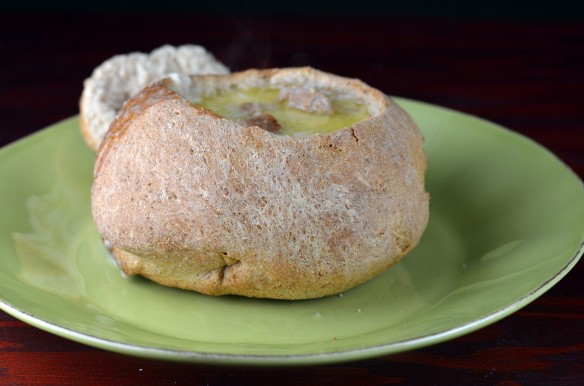 Beer, Cheddar & Bratwurst Soup in Bread Bowls
Soup: loosely based on recipe from Epicurious.com
1 onion, chopped
4 cloves garlic, minced
4 small potatoes, chopped
4 cups chicken broth
1 12oz bottle wheat beer
1/2 cup half and half
1/2 teaspoon dry ground mustard
1/4 teaspoon salt
1/4 teaspoon ground black pepper
8oz aged, sharp cheddar, freshly shredded
1 bay leaf
1 tablespoon butter
1 lb (~4 links) bratwurst (we used sausages from Uli's at Pike's Place Market...yum!)
Place onions, garlic, and potatoes in crockpot, cooking on low.
Add beer, chicken broth, half and half, dry ground mustard, cheese, and bay leaf and stir.
Melt butter in pan, and sear outside of bratwurst links. Once seared, remove from the pan, slice into 1" chunks, and then finish cooking.
Add to the crockpot and let the mixture cook for 6-7 hours on low. Remove the bay leaf before serving.
Bread Bowls: adapted from allrecipes.com
2 (.25 ounce) packages active dry yeast
2 tablespoons sugar
2 1/2 cups warm water
2 tablespoons olive oil
3 cups all-purpose flour
4 cups whole wheat flour
2 teaspoons salt
1 egg
1 tablespoon water
Combine yeast, water, and sugar in the bowl of a stand mixer fitted with a dough hook attachment. Let rest for 10 minutes until the mixture is foamy.
Add in oil, salt, and the all-purpose flour, mixing. Add in the whole wheat flour 1/2 cup at a time until incorporated.
Let the stand mixer knead the dough for about 10 minutes stopping every so often to push the mixture down in the bowl and off of the hook.
Move to a slightly floured surface and knead with your hands for a few minutes, adding more flour if the dough is too sticky.
Place dough into an oiled bowl and let rise for an hour.
Divide into the number of bowls you want and roll each into a ball (I made four bowls and they were enormous, so I think 6 would make for a better sized bowl). Cover the balls of dough and let rise for another 20 minutes.
Using a sharp knife, make an X in the middle to guide the dough to expand and outline where you want the top cut off so it will be easier to cut through once baked.
Make an egg wash with the water and egg and brush on the tops of the bowls (I actually forgot to do this, but I think it would brown them more nicely)
Bake for 35-40 minutes until golden.
Let cool for at least 30 minutes. Using the knife from earlier, finish cutting through the tops along the line you already added.
Scoop out the majority of the insides until you are happy with the size of the crater in the bowl (and set aside if you are like me and would rather eat that part of the bread than the harder crust). Fill with soup and serve.
It's a bit of a carb overload with all of that bread, but totally worth the extra calories. Plus, it has whole wheat flour, so it's healthy, right?