Butternut Squash and Chorizo Lasagna
Dustin thinks I'm obseseed with butternut squash. I'm not sure obsessed is the right word, but I have definitely been incorportaing it into our menu quite a bit, including this butternut squash and chorizo lasagna adapted from How Sweet It Is.
The sweet, nuttiness of the roasted butternut squash goes well with spicy chorizo. Best of all, I made this in a skillet. I think everything tastes better baked in a skillet.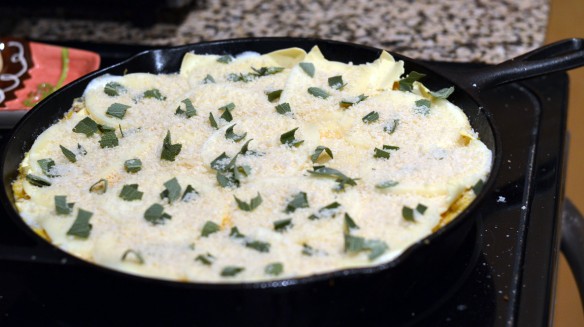 First, roast one large butternut squash early in the day (like I did for the ravioli a few days ago) for an hour and fifteen minutes at 375°. Set aside to cool, and then peel and mash.
When it's getting close to dinnertime, sautee a chopped onion and a couple of cloves of garlic in the skillet until fragrant. Add in a pound of chorizo (removed from the casing) and cook until browned. Remove the onions and chorizo to make the cheese sauce in the skillet. Make a roux by melting a tablespoon of butter and add in a tablespoon of flour, cooking for several minutes before adding 2 cups of milk, which should be brought to a simmer until slightly thickened. Add approximately 3/4 cup of shredded parmesan cheese along with 1/2 cup of part-skim ricotta. Add in mashed butternut squash, salt, pepper, and a couple of tablespoons of dried sage. Add in the chorizo and onions and cover with no-boil lasagna noodles (or pre-boiled lasagna noodles) making sure each noodle gets a nice coating of cheesy sauce.
Add slices of fresh mozzarella to the top along with a sprinkling of panko bread crumbs and some sage leaves for extra flavor. Bake in the oven at 350° for 25-30 minutes or until the cheese is melted and golden brown. I can't show you a final picture because we served this to some friends who came for dinner, and we felt a little goofy asking them to wait on food while we took pictures. It turned out to be perfectly unique and delicious, generously serving all four of us with lunch leftovers for both me and Dustin!