Cider Pork and Pears
I saw a recipe in Bon Apetit magazine for cider braised pork that really caught my eye. Apple cider to cook my meat? Yes, please. However I wasn't in the mood to take on a long-term braise or go out in search of one of the more obscure ingredients required, ginger beer.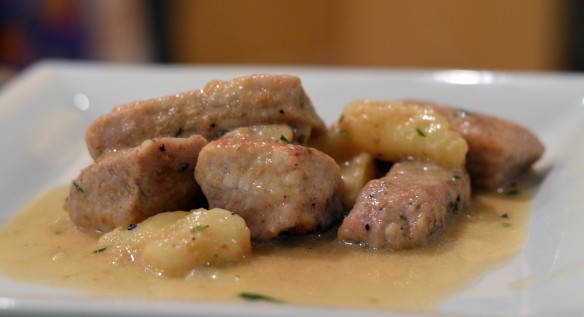 A few weeks later I saw this recipe on Foodgawker for pork and pears cooked in a creamy cider sauce that promised dinner on the table in 30 minutes. That's more my style.
In the end Dustin ended up taking the lead on this meal because I stupidly ran my leg into the table really hard earlier that day and spent the evening off of my feet with ice packs on to keep the swelling down and the pain numbed. Fortunately, I have a sweet and kitchen-competent guy to take over.
We made a few changes (like substituting half and half for the cream) and found that we really liked the pieces that still had a little fat on them. They were extra juicy. Also our pears were a little soft and ended up a little mushy, but still the best of the dish, flavor-wise.
This meal was top-notch and restaurant-quality in terms of taste. One of our favorites so far this fall.