Cream-Filled Pumpkin Roll
I bought a jelly roll pan to make my first roll cake this Thanksgiving, and in the end I was quite happy with my results.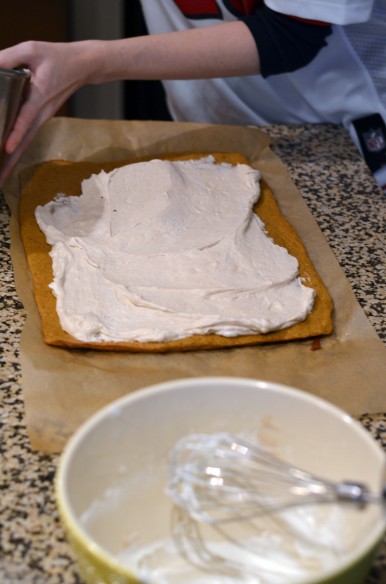 What really sold me on this recipe was the beautiful picture in The Pastry Queen cookbook. It is absolutely gorgeous. The cake I ended up with doesn't look nearly as impressive as the one in the cookbook.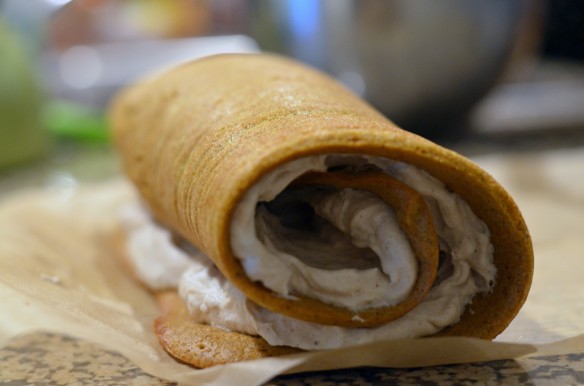 I guess that's why I'm not paid to make my own cookbook! Nonetheless, this pumpkin roll cake was a great experimental addition to our Thanksgiving dinner repertoire, served alongside bourbon chocolate pecan pie!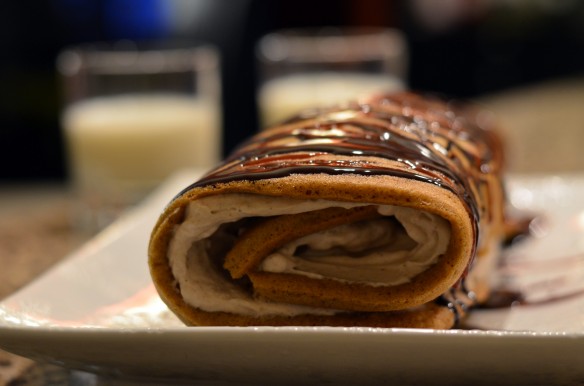 Cream-Filled Pumpkin Roll
serves 12
Cake
4 large eggs, separated
1/2 cup light brown sugar
1/2 cup all-purpose flour
1 teaspoon baking soda
1 teaspoon baking powder
1/2 teaspoon salt
1 teaspoon cinnamon
1/2 teaspoon allspice
1/2 teaspoon cloves
1/2 teaspoon nutmeg
1/2 cup pumpkin puree
1/4 cup granulated sugar
Preheat the oven to 350°. Spray parchment lined 13"x1 8" roll pan with cooking spray.
In  a medium sized bowl, sift together flour, baking powder, soda, salt, and all of the spices.
In a stand mixer or with a hand mixer fitted with a whisk, whisk the egg yolks until frothy. Add brown sugar and beat for another minute.
Slowly add flour mixture to the wet mixture and mix until combined.
Stir in the pumpkin with a spoon.
In a separate bowl, whisk the egg whites until soft peaks form. Then add the granulated sugar, one tablespoon at at time, beating on high in between.
Fold the egg whites into the other mixture.
Spread the batter along the pan using a spatula to make sure the batter is distributed evenly over the pan.
Bake for 15 minutes or until the cake springs back when lightly touched.
Allow the cake to cool for an hour before preceding.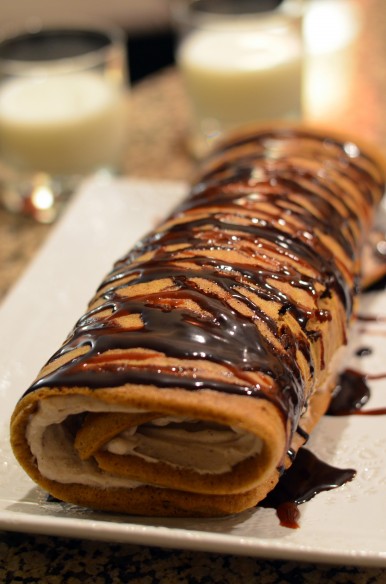 Filling
8 ounces cream cheese, softened
8 ounces mascarpone cheese, room temperature
1 cup powdered sugar
1 1/2 teaspoons vanilla extract
1/4 teaspoon allspice
1/8 teaspoon cloves
1/4 teaspoon nutmeg
1/2 teaspoon cinnamon
1/2 teaspoon salt
1/2 cup heavy whipping cream
Combine the cream cheese and mascarpone cheese in a mixer using the paddle attachment.
Add in the powdered sugar, salt, spices, and vanilla.
Using a hand mixer fitted with a whisk, beat the whipping cream until peaks form.
Fold whipped cream into the other mixture to help make it lighter and fluffier.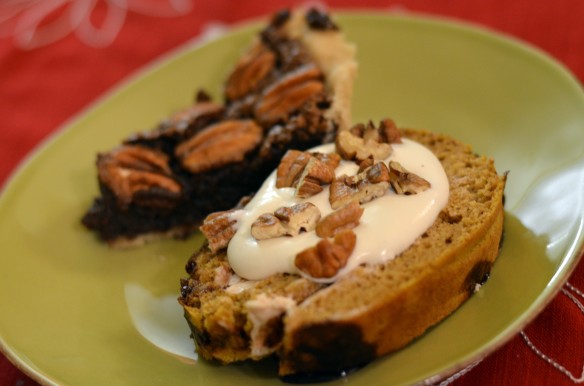 Assembly
Dark chocolate sauce
Caramel Sauce
Whipped Cream
Toasted Pecans
To assemble the cake, spread the filling all along the cake. Beginning with the one of the short ends, peel the parchment paper from the cake and roll it away from you. It will probably tear a little. It also helps to have another person helping you out here. One person can roll while the other peels the parchment paper away which will reduce the risk of large tears.
Cake can be stored in the fridge until ready to eat (wrapped in plastic if not to be eaten for an extended time).
Allow cake to sit out for 30 minutes before serving to let the filling soften. Slice with a sharp knife. Serve with drizzles of dark chocolate and caramel sauces, chopped toasted pecans, and a dollop of whipped cream.
slightly adapted from the Pastry Queen Cookbook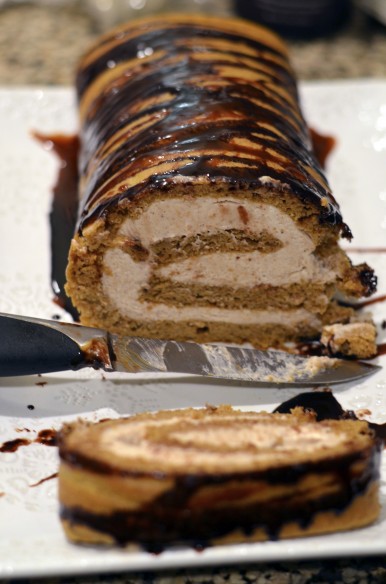 And here's the nice centerpiece we picked up from Pike's Place.