Goat Cheese & Mushroom Penne
Dustin has decided he likes mushrooms as long as they are not from a can, not slimy, and are properly prepared. We went out to eat at an artisan wood-fired pizza joint a few weeks ago, and Dustin actually ordered a pizza featuring chanterelles as a prominent ingredient. I was stunned. That pizza sounded like something I would have ordered. Both of us agreed that the pizza was delicious and something we'd like to recreate at home sometime soon. But until then I thought I'd take advantage of Dustin's newfound enjoyment of mushrooms and make a healthy dinner featuring roasted mushrooms.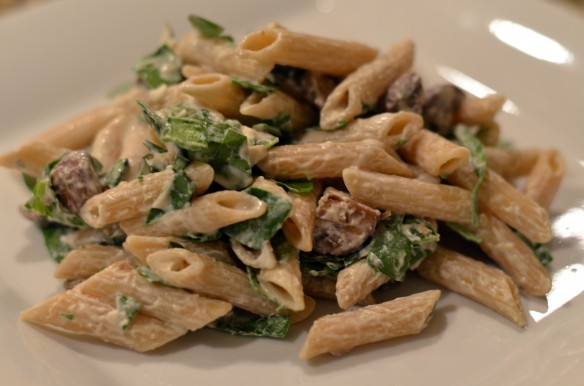 I bought an 8 ounce package of cremini mushrooms, removed the stems, cut them in half then tossed them with olive oil, balsamic vinegar, thyme, and crushed garlic before roasting them at 350° for 15 minutes. Next I boiled some whole wheat penne pasta and transferred it to a large bowl. I added goat cheese crumbles and a bit of milk until a creamy sauce covered my pasta. I threw in the roasted mushrooms, added some salt and pepper and then added some veggies. This dish is versatile— chopped spinach or arugula, caramelized onions, roasted peppers, and/or cherry tomatoes. You could add some protein, but I think the mushrooms are hearty enough. Even though we didn't do this, I think some nuts would taste delicious atop this dish for some added crunch.
This pasta dinner was a light and refreshing change from the heavy dinners and desserts we've been consuming lately!