Herbed White Bean Hummus
We went out to dinner at a new restaurant in Bellevue that specializes in Neapolitan pizza. The pizzas were good, but nothing spectacular. It's no Serious Pie. The best thing we ate was the appetizer— a white bean dip kicked up a notch with rosemary.
The next day we were looking for a light and healthy lunch that didn't require much planning or any ingredients we'd have to run out and get. I remembered that I had a can of white beans, and I knew we had rosemary, so why not recreate the best part of the previous night's meal? We split a small appetizer sized portion between four people, so we really only just got a taste of the dip.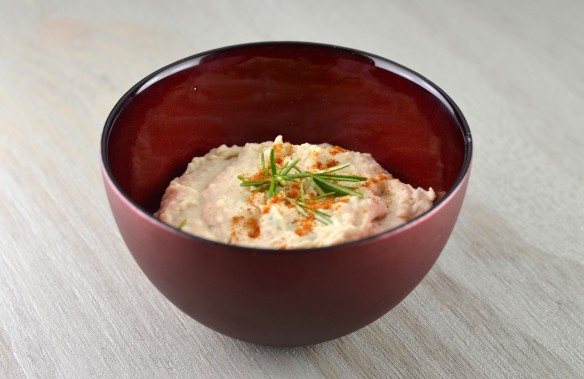 As good as the restaurant's dip was, we adjusted the flavors to our personal tastes (i.e. lots of garlic) and ours was even better! The texture of our homemade white bean hummus was so much better than our regular homemade hummus because white beans are naturally so much creamier.
We toasted some whole wheat bread with a little bit of butter to make make our own crostinis, and it was exactly the kind of lunch we were looking for. It also makes a really yummy sandwich spread!
Herbed White Bean Hummus
1 15-ounce can white beans, rinsed and drained
2 tablespoons tahini
1 tablespoon olive oil
1/2 lemon, juiced
4 cloves garlic, crushed (less if you aren't a garlic fiend!)
2 tablespoons fresh rosemary, chopped
1 tablespoon dried oregano (substitute fresh if  you can!)
salt and pepper to taste
Combine all ingredients together in a food processor, scraping down the sides until smooth. Adjust flavor or texture to your personal preference by adding more herbs, olive oil, etc. Enjoy with homemade crostini, pita chips, or even veggies if you want to be super healthy.
Today is Dustin's birthday, so I'm working on a special dessert for him. Stay tuned! Fingers crossed it comes out how I'm hoping!