Mild Curry Chicken in Basil Coconut Sauce
This dish smells heavenly cooking up on your stove. Between the fragrant coconut milk and the spices being poured in, your senses will be overloaded with delicious smells.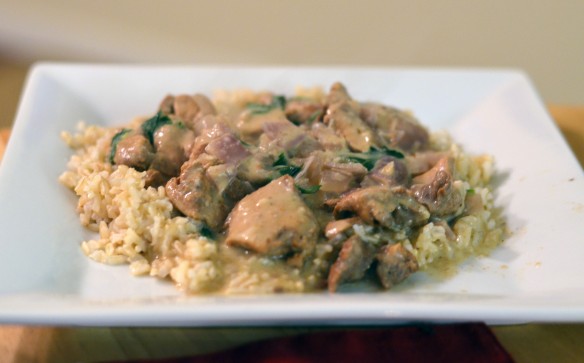 First, chop an onion and sauté over medium heat until translucent. If you want a spicier curry this is where you could cook up some peppers— we just used chili powder. Add in a a few cloves of garlic and cook for another minute or two. Toss in cubes of chicken seasoned with salt, pepper, cumin, coriander, and chili powder. If you remember, you should season the chicken early in the day and let it sit in the fridge, absorbing the goodness of all of those spices. If you forget or don't have time, you can let it sit for just 30 minutes.
When the chicken is cooked all the way through, remove the veggies and chicken from the pan and place in a bowl. In the same pan, pour in one 15-ounce can of lite coconut milk and a tablespoon of cornstarch over medium-high heat until smooth and thickened. Add in a tablespoon of freshly shaved ginger (if you put it in the freezer for a few minutes before it makes the ginger easier to peel and grate), as well as freshly chopped basil, salt, and pepper to taste and additional chili powder (or any of the other spices) if you'd like to up the spiciness any more.
Turn down the heat, and dump the veggies and chicken back in the pan until the chicken is heated all the way through again. Serve over a bed of whole-grain Jasmine rice for a mild coconut curry chicken dinner enhanced by the flavor of fresh basil.