Mini Beef and Cheese Empanadas
I honestly can't remember the last time I had empanadas before these babies, but I definitely will not be letting myself go that long without eating them again. Anything wrapped in what is essentially pie dough gets thumbs up in my book.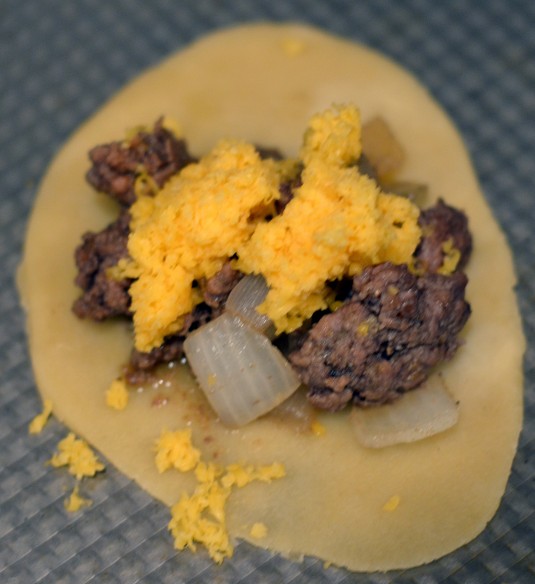 No where near as flaky as fried empanadas, these baked empanadas have their own unique texture and are equally as delicious. Baked empanadas are actually really easy to make and taste great dipped in sour cream, guacamole, or my favorite, queso. I wish I had thought to make these for the football game because they are pretty much the perfect finger food.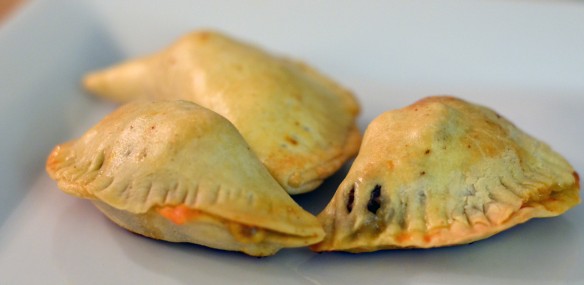 I also wanted to make pumpkin empanadas alongside my savory creation, but I realized I didn't have enough dough. Hopefully some pumpkin empanadas will be in my near future...
Mini Beef and Cheese Empanandas
Makes approximately 1 dozen depending on the size you make them
Dough
1 1 /2 cups all-purpose flour
1/4 teaspoon salt
1 egg yolk
4 tablespoons butter, cold and cut into 8 pieces
2-3 tablespoons water
Combine all ingredients in a food processor and process until a uniform texture is formed.
Add in water, one tablespoon at a time until a sticky dough forms.
Wrap dough in plastic and let sit for at least 30 minutes.
When you are ready to make the empanadas, roll the dough out with a rolling pin on a lightly floured surface to about 1/4" thick and use a large round cookie or biscuit cutter or a drinking glass to cut out circles.
Filling
1/2 large onion, chopped
2 cloves garlic, chopped
1 tablespoon olive oil
seasonings to taste— you can use taco seasoning, but I just threw a bunch of different spices at random in my pot— adobo, ancho chili powder, chipotle chili powder, cilantro, smoked paprika, salt and pepper
1/2 cup cheddar cheese, shredded
Cook onion and garlic over medium heat in olive oil until fragrant.
Add in ground beef and desired amount of seasoning and cook until golden brown.
Drain the ground beef mixture or else the juices will make your empanadas soggy.
Place a little bit of the ground beef mixture in the center of the circle of dough and top with a pinch  of cheese. Don't be tempted to overfill or you will end up with holes in your empanadas! Fold one edge of the dough over to meet the other and pinch together to seal. Use a fork to crimp the edges.
Place on a baking sheet and cook for 16-18 minutes until the edges of the empanadas are browned.
Let cool for at least 5 minutes and then serve with a variety of Mexican dipping sauces!