Mini Cake Batter Donuts & Dustin's Birthday!
Dustin ended up working from home on his birthday since there isn't too much going on at work at the moment. That meant we got an entire day together to hang out together and celebrate!
We started out the lazy morning with mini cake batter donuts. I added food coloring to the glaze to make them more festive— green was Dustin's color of choice. After I dipped the icing on top of the donuts, I knew it need a few more orange sprinkles! A sweet treat to start a special day!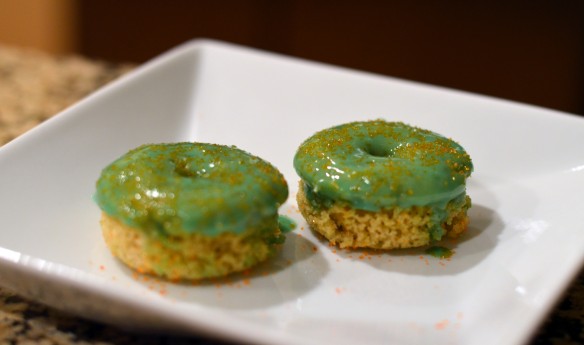 For lunch we drove to the popular, but only-open-for lunch-on-weekdays sandwich shop, Salumi in Seattle. It surprisingly wasn't raining or terribly cold, so the whole family hopped in the car for some delicious cured-meat sandwiches.
I spent the afternoon making Dustin's special birthday treat, trying to keep it a surprise. That wasn't the easiest thing to do with him home, but I managed to make it into the oven without him knowing what it was! Dustin watched a lot of How I Met Your Mother while I baked, and we engaged in several, competitive rounds of the iPhone game, Letterpress. Bonnie slept. As you can see we had quite an eventful day. We also exercised to burn off some of these extra calories we've been consuming!
For dinner we went to Sushi Kappo Tamura, Seattle Magazine's Best New Restaurant for 2011. They had a couple nice sake tasting flights, but since I'm not the biggest sake drinker, we chose just a single one that was described as having hints of chestnut, brown butter, and honey. The brown butter sold me. And it was a good choice!
For dinner, we picked a few items from all over the menu— fresh BC scallop sushi, California roll, negihama roll (yellowtail + green onion), sautéed geoduck with mushrooms, and seared black cod. Everything was spectacular, with the black cod being our favorite and the scallops coming in a close second. All the sushi was incredibly fresh, simple, yet incredibly yummy. So far, this is probably our favorite Seattle sushi joint.