M&M Skillet Cookie Cake
Dustin is a pretty lucky boy. Not only did I make him a birthday cake on his actual birthday. We had a little get together with friends to celebrate, for which I made him another cake— a cookie cake to be exact.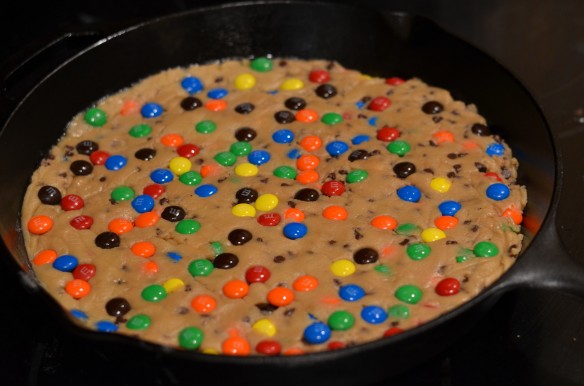 We have a special place in our heart for cookie cakes. You see, back in Houston, we'd eat this delicious double layer cookie cake from Sam's Club. It was about half of the price of the cookie cakes from that mall chain, and it was twice the amount of cake. It consisted of cookie, covered in frosting with another layer of cookie followed by more icing in the form of decorations. You really can't beat buttercream frosting and a soft, moist cookie cut into slices.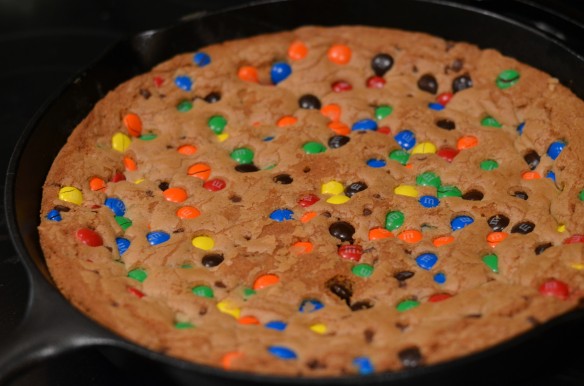 I've seen lots of recipes for skillet chocolate chip cookies that have reminded me of those cakes, and I've been wanting to make one for awhile. When I saw this recipe for a browned butter M&M skillet cookie, I was sold. Brown butter. Enough said. Plus the M&Ms make it a little more exciting and colorful for a birthday celebration. Running low on butter and powdered sugar, I used store-bought frosting for decorating purposes.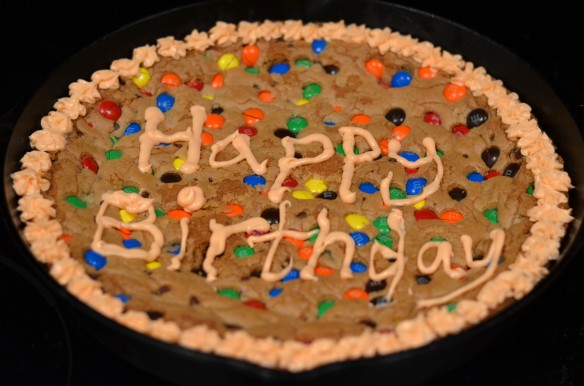 The cookie cake went over well and was proclaimed favorite dessert I'd ever made by some. Dustin said he'd be ok with this becoming a new birthday tradition.
M&M Skillet Cookie Cake
slightly adapted from Sweet Anna's; serves 16
1 cup butter, softened
1 cup firmly packed brown sugar
1/2 cup white sugar
2 eggs
2 teaspoon pure vanilla extract
2 1/2 cups flour
1/2 teaspoon salt
1 teaspoon baking soda
3/4 cup chocolate chips
1 1/4 cups M&Ms, divided (3/4 cup and 1/2 cup)
1 can of icing
Preheat oven to 375°.
Brown butter in 12" skillet. When the butter gets a nutty aroma, you know it is ready to move to the bowl of your stand mixer to cool.
Once slightly cooled, add both sugars to bowl of stand mixture and mix until combined.
Add in eggs one at time, followed by the vanilla extract.
In a separate bowl, sift together flour, salt, and baking soda.
Slowly add dry mixture to wet mixture until just combined.
Fold in the chocolate chips and half of the M&Ms.
Spoon dough back into the skillet (still greased with the brown butter).
Press the rest of the M&Ms on the top of the cookie.
Bake for approximately 25 minutes or until golden and the edges begin pulling away from the side of the skillet.
Let cool completely before decorating with icing.
Cut into 16 wedges (they will be nice and thick so a narrow slice is all you need) and serve directly from the skillet.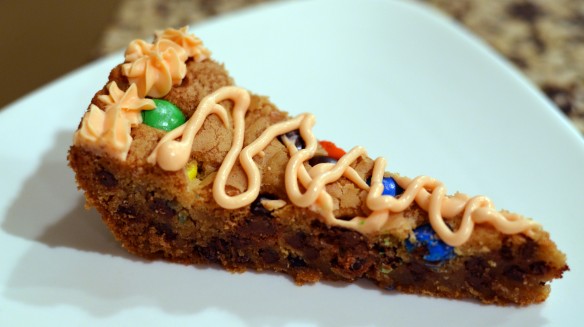 This would be absolutely fabulous served warm alongside a scoop of chocolate ice cream. I'm drooling thinking about it! Normally, I like to shove my desserts upon other people after one day of consumption, so I don't feel too guilty about what I'm eating (and so I have an excuse to make something else...not gonna lie), but I had no problem eating leftover slice(s) the next day :)
Variations on the skillet cookie will definitely be added to my repertoire of desserts!