Philly Cheesesteak Eggrolls
Homemade eggrolls are a fun, easy, and versatile dinner, party appetizer, or football food. If you can find eggroll wrappers. I looked at both Whole Foods and Safeway. Nothing. I finally decided we'd have to make a special trip to the Asian grocery store to look for them, until we started using Amazon Fresh's delivery service. Now, I have a large package of egg roll wrappers waiting to be rolled and cooked.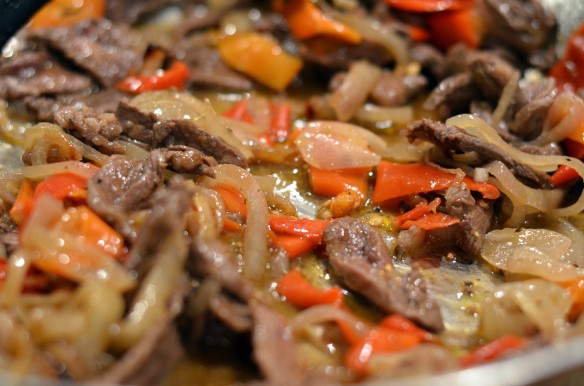 Our first creation were these Philly cheesesteak eggrolls, a recipe I had seen on Rachael Ray's show when flipping through stations one day last summer.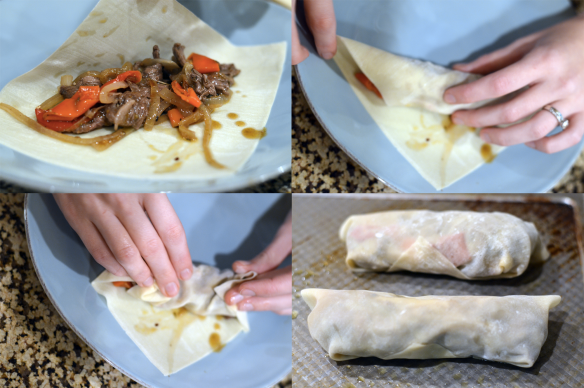 To make these eggrolls, we sliced a pound of skirt steak into thin strips and cooked them in olive oil with salt, pepper, garlic, and Worcestershire sauce. We threw in some sliced onions that we had already cooked and caramelized as well as some mildly spicy Mama Lil's peppers, Dustin's latest local obsession. Then we watched a Youtube video on rolling eggrolls, filled our wrappers with Philly cheesesteak goodness, dabbed the end with water to form a seal, and topped them with toasted sesame seeds before baking in the oven at 375° for 20 minutes. Our eggrolls weren't quite as perfect as the ones in the video, but for our first time trying, I think they came out quite nicely.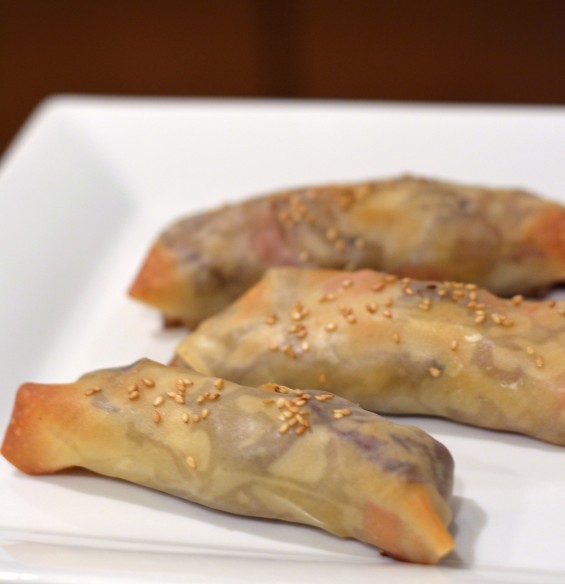 While the eggrolls were baking, we made a provolone cheese dipping sauce, which is what really makes these eggrolls. I cut the original recipe in half and it made just enough sauce for both of us to dip our eggrolls each and every bite. All you have to do is melt 2 tablespoons of butter, stir in 1 1/2 tablespoons of flour and toast them. Then, add in a cup of low-fat milk and bring to a simmer, allowing to thicken. Season with salt and pepper and stir in 1 cup of shredded provolone cheese. We used a smoked variety that gave nice depth to the flavor.
With a large package of unused eggrolls, there are more varieties to come in the near future!