Pumpkin Fried Rice— Take 1
There's a pretty good Japanese sushi restaurant in Old Town Bellevue called Ginza with a lovely dish that outshines any possible sushi you can order there. Pumpkin fried rice. It is beyond ridiculously good, and the presentation is uber cool. They serve the rice in a hollowed out pumpkin! As you eat the rice, you can scoop out chunks of roasted pumpkin. So, so good.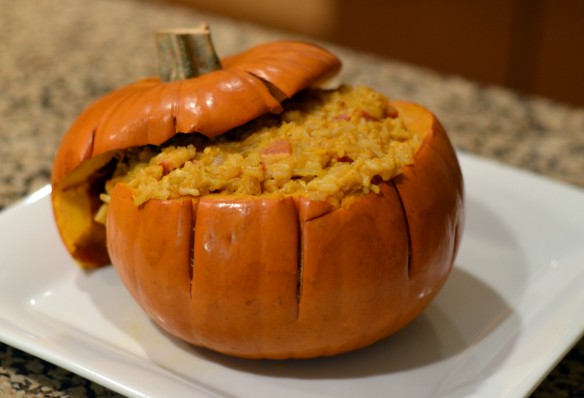 I had planned on trying my hand at some sort of fried rice in the near future, and after we tried this dish from Ginza, I decided this is what I should try to recreate, authentically served in a pumpkin and all. We just cooked up some leftover brown rice with onion and garlic in oil and soy sauce along with pumpkin puree, followed by the addition of scrambled egg and chopped bacon. Our recreation was quite delicious, and it did stand up to our high cooking standards, but wasn't as good as Ginza's version. Maybe there was a missing ingredient? So we've decided that while we still live in Bellevue, we'll go to Ginza for our pumpkin fried rice fix, and we'll try even harder to perfectly recreate this dish when we no longer live in the area. This dish will be one of the lucky ones that we will actually make more than once! So while I won't be posting a recipe for now, there will definitely be one in the near future.
If you come to Bellevue, go to Ginza for the pumpkin fried rice. You will not regret it!