Pumpkin Pecan Cinnamon Rolls + Salty Caramel Cream Cheese Frosting, sweet
While we have had success with no-yeast cinnamon rolls, I am now officially convinced they can never replace cinnamon rolls made with yeast-raised dough and lots of time and love. I made The Pioneer Woman's Famous Cinnamon Rolls with my mom around the holidays a few years ago and had since forgotten how delicious they were. The original recipe makes a crazy amount of cinnamon rolls— like 7 pans! I don't even know enough people here in Washington to give that many cinnamon rolls away to, so I scaled the recipe to be the perfect size for one large batch.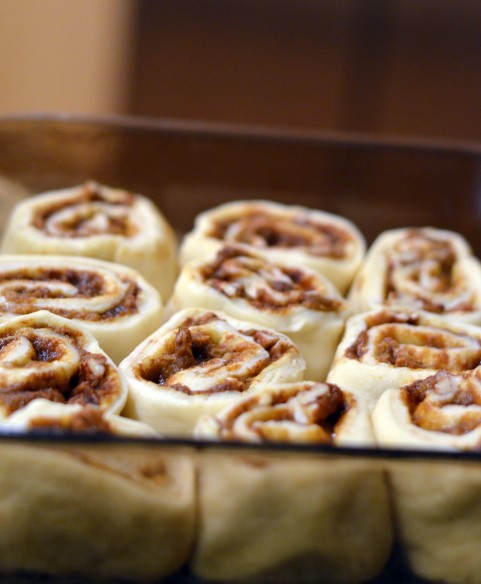 I found that the real key to making these cinnamon rolls was to make the dough the day before and let it rise in the refrigerator overnight. Then, in the morning, you are less than an hour to fresh, perfect cinnamon rolls. All you have to do is finish assembling the rolls, wait for the final rise and actual baking in the oven. An hour is much more reasonable time to wait than the 3 1/2 you'd have to wait if you didn't start the dough the day before.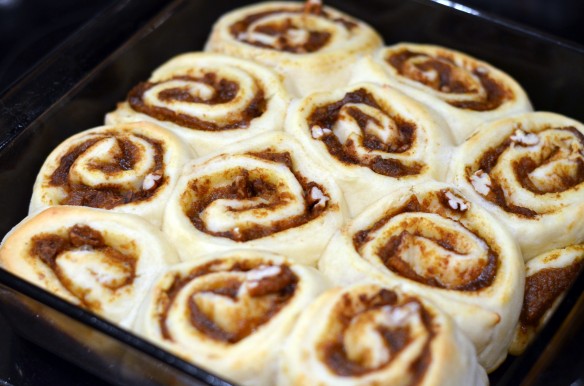 This recipe has lots of parts and steps, but for the most part they can all be done at different times, so you are never having to do very much work at once. It's totally worth the effort to have warm pumpkin pecan cinnamon rolls on your breakfast table.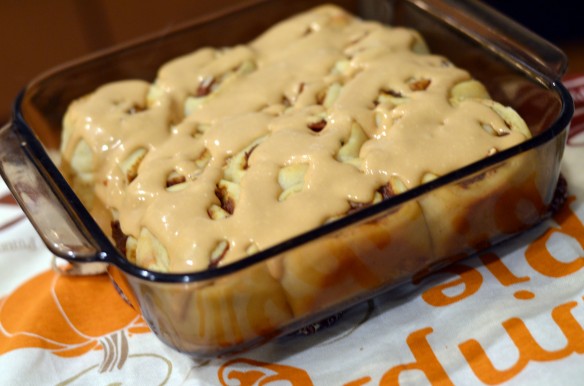 Pumpkin Pecan Cinnamon Rolls with Salty Caramel Cream Cheese Frosting
_Adapted from The Pioneer Woman; makes 10-12 cinnamon rolls_ Dough
1 cup milk (I used 1%)
1/4 cup canola oil
1/4 cup sugar
1/2 package dry active yeast
2 1/4 cups all-purpose flour
1/4 teaspoon baking powder
1/4 teaspoon baking soda
1/4 tablespoon salt
Combine the milk, oil, and sugar in a pan and scald (heated just before the point of boiling) the mixture. Let the mixture cool for 45 minutes.
Add in the yeast and let the mixture sit for about five minutes.
Add 2 cups of flour and mix. Cover with a dish towel and allow to rest for an hour. Dough will have a fairly sticky texture still.
Add in an extra 1/4 cup of flour along with baking powder, soda, and salt. Mix, cover, and place in the fridge until ready to use (or if you were crazy and got up super early in the morning to make cinnamon rolls continue on).
Remove from fridge, punch down the dough, then use a rolling pin to form the dough into a rectangle (I think mine was about 16"x10" but that's just a guess) on a lightly floured surface.
Filling
1 tablespoon butter, melted
1 batch pumpkin pecan butter (recipe below); or you can use regular store-bought pumpkin butter and puree with toasted pecans
1/4 cup pecan, chopped and toasted
cinnamon for sprinkling
Use a pastry brush to coat dough with melted butter leaving a 1" border around the edges so the dough will be easier to pinch together.
Use a spatula to spread pumpkin pecan butter over the melted butter.
Spread chopped pecans along the dough
Sprinkle with as much cinnamon as desired. (For me it was a lot, but I won't tell you how much to use because apparently I abuse cinnamon according to Dustin :) )
Start rolling the dough towards you (one of the longer sides of your rectangle should be coming towards you). Once all rolled up, pinch the end of the dough together to form a seal.
Cut your long string of dough into 10-12 equal pieces.
Place individual rolls in an 8"x8" baking dish sprayed with cooking spray. Make sure to leave a little room between each roll, cover with dish towel, and let the rolls puff up slightly (around 25 minutes).
Bake in the oven at 375° for 20 minutes or until edges are lightly brown.
Pumpkin Pecan Butter
1 cup canned pumpkin
1 tablespoon of orange zest
1/2 teaspoon cinnamon
1/4 teaspoon allspice
1/4 teaspoon ginger
1/8 teaspoon salt
1/4 cup pecans, toasted
Combine pumpkin, orange zest, spices and salt in a small saucepan and let the mixture simmer for about 20 minutes to let the flavors melt and allow the mixture to thicken. Remove from heat and allow to cool.
Add to food processor along with pecans and process until smooth.
*This can be made several days ahead of time and makes a little bit more than you actually need to fill the cinnamon rolls. I used a few spoonfuls the day before to add to my oatmeal, and it was delicious.
Frosting
2 tablespoons cream cheese, softened (reduced fat works)
1/2 cup powdered sugar
1/4 cup salty caramel sauce (you can add some coarsely ground sea salt to taste into regular caramel sauce)
2 tablespoons milk
1 teaspoon vanilla extract
Combine all ingredients in a small bowl and whisk until smooth. You can add more powdered sugar to make the frosting thicker (but the caramel sauce helps keep it nice and thick even without much powdered sugar) or add milk to thin it out.
Pour over slightly cooled cinnamon rolls and enjoy!
Top with even more chopped pecans if desired, but they really don't need 'em. These little babies are about as close to perfect as you are going to get— sort of like eating slices of pumpkin and pecan pie wrapped up with gooey cinnamon roll and dipped in caramel. The rolls themselves are actually only slightly sweet, while the frosting, of course, is sinfully sweet, so they complement each other quite nicely.
I dare you not to go back for seconds! So does Bonnie!