Sticky Toffee Pudding Cake
We first tried sticky toffee pudding at a restaurant in Houston on a whim. Based on the description it's not really something that would ever jump out at us. Neither of us are huge fans of dates, and Dustin didn't even know they were the main ingredient until we started chopping them up to make our own version. Perhaps our palettes are changing, as we both really enjoyed this traditional British dessert. The best we've had was at this random Indian restaurant we stopped at during our trip to London in 2011, but there is a restaurant in Bellevue that does a pretty tasty version served with salted caramel ice cream instead of traditional vanilla— a pretty perfect combination if you ask me.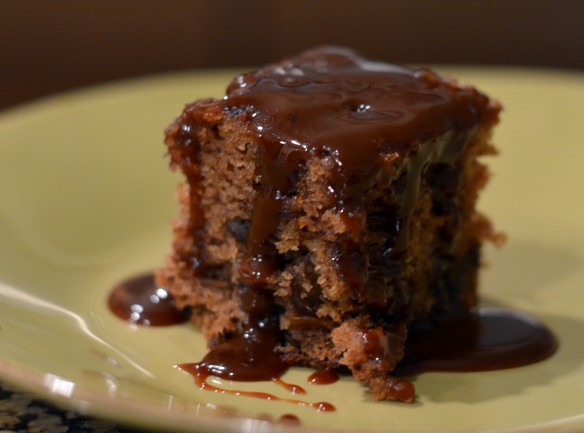 The texture of this sticky toffee pudding was a lot less moist due in part to the fact that I didn't soak the cake immediately from the oven with sauce (I didn't want it to get soggy sitting in the fridge overnight, so I soaked each piece right before it was to be eaten) and the type of sauce I used on top. I actually used caramel instead of toffee, and a very thick caramel at that. Next time I'll definitely make my own. While this was still a very moist cake compared to most others, if you have had sticky toffee pudding before, this might not be exactly what you'd expect moisture-wise. As a result I am referring to this as sticky toffee pudding cake instead of just regular sticky toffee pudding. Here's the link to the recipe I used this time around (although I think I'd swap the light brown sugar for dark brown sugar were I to make again).
It's still nice and sticky though. And it doesn't require too much sugar since the dates are naturally sweet. This is definitely a comforting cake to be eaten warm by the fireplace (if we had one) on a cold evening around the holiday season.
We didn't serve with ice cream, but we should have!