Beef Tenderloin with Tapenade & Basil Creme Fraiche + Pear Salad
Let's be honest. Erin had a pretty fantastic birthday. Especially for all the awesome food she got. She dined on freshly rolled sushi by esteemed sushi chef, Shiro. She splurged on plenty of small plates from Black Bottle Postern. She cooked her own outstanding Indian cuisine at an entertaining cooking class at Hipcooks. And she got to sit back on the couch and let her man whip up a delectable dinner on her actual birthday.
Although Erin wanted to be completely unaware of her dinner, she couldn't help to slip in that it should be "healthy." I did my best to adhere to that. Salads are healthy, right? I think that makes the entire meal instantly healthy.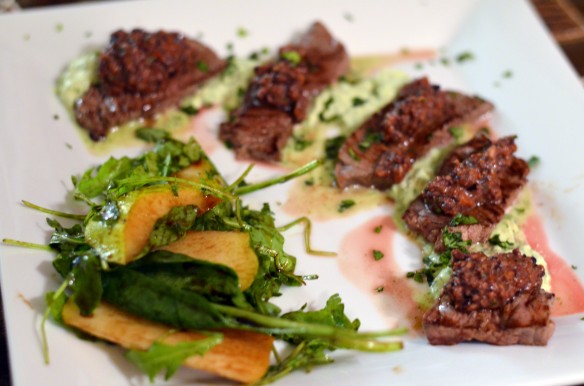 On a whim, I got the urge to cook beef tenderloin with two tasty sauces that would both complement each other and the steak. To cook the beef, I got my stainless steel pan very hot with grapeseed oil (high smoking point) and tossed thinly sliced strips of tenderloin into the hot oil for just a minute or so per side. They came out perfectly seared on the outside and medium rare in the center.
The two sauces were Basil Creme Fraiche and Kalamata Olive + Red Bell Pepper Tapenade. I searched online for hints on how to cook both of these. The best I found for the Creme Fraiche was a recipe from the New York Times. It is, however, for cinnamon and basil. I simply cut out the cinnamon and pureed the creme fraiche and basil together. The recipe stated that you can just mix them together, but pureeing them really integrates the basil and creme fraiche together perfectly. And the tapenade was mainly based on this recipe minus the capers.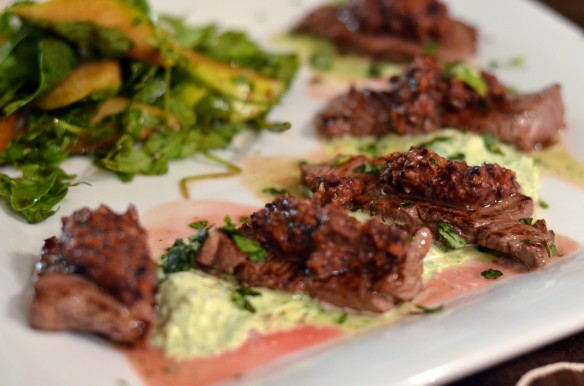 I also wanted a wonderfully simple salad to pair with the steak. I had decided on an arugula and strawberry salad, but I ended up making a lot of adjustments. Too bad it wasn't strawberry season, so in went the fresh pears, and boy was I pleased. The pears worked so well with the arugula and balsamic, I couldn't believe how quick I gobbled it up. I ended up with a 2 minute recipe that tastes great and anyone can make.
Arugula & Pear Salad
2 servings worth of arugula (with or without baby spinach)
1 pear, sliced
1 tbsp olive oil
1 1/2 tbsp balsamic vinegar
Add all ingredients to a salad bowl and toss.
Erin's birthday was a great experiment for me in the kitchen, and she loved eating it all up. Now this might have to happen more often!