Caesar Salad Pizza
Dustin and I don't post very many salad recipes. Occasionally, I'll have a really creative idea for a salad, but most of the time when we eat them, they are just a side dish to something more exciting. The one exception throughout our history together has been Caesar salad. Along with chicken tacos, chicken Caesar Salad was a weekly staple for us back in college at Rice. After a long day of classes, it was nice to come home, open a bag of lettuce, grill up some chicken, and assemble everything instead of cooking a labor intensive meal. This Caesar salad pizza (inspired by the small selection of savory items in my Pastry Queen cookbook) isn't really a labor intensive meal (unless you want to make your own Caesar dressing, which I opted out of). The only extra step is really making a pizza dough (with garlic and parmesan cheese mixed in) and baking it up with a little extra parmesan cheese on top.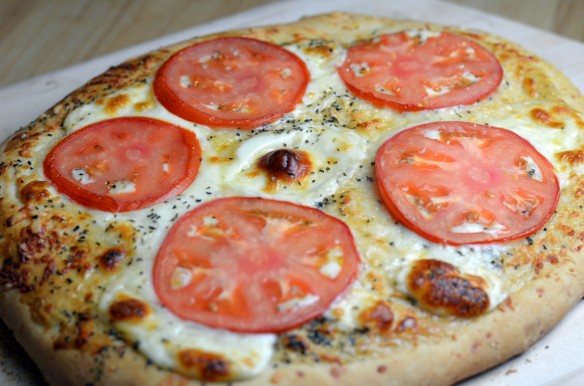 Once the dough is baked, you basically just assemble the salad on top of the pizza. We used a thin layer of light Caesar dressing as the sauce, tossed the lettuce with a bit more dressing and then piled the crust high with lettuce, tomatoes, parmesan, mozzarella, and croutons. We should have added some hard boiled egg. While Dustin's favorite part of a Caesar salad are the croutons, my favorite part are the cooked egg whites. I can't believe I forgot them this time!
We laughed because often times you'll go to a pizza place and get a salad on the side. Instead we just decided to combine the two dishes together for easier digestion!