Cinnamon Peanut Butter Chocolate Chip Cookies
I made homemade peanut butter for the first time! The only thing better than homemade peanut butter? Homemade honey roasted peanut butter!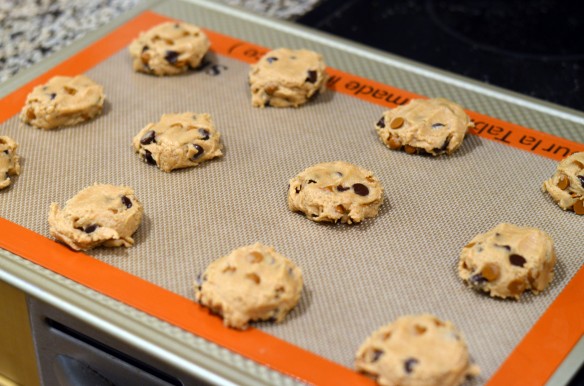 I don't think making basic peanut butter qualifies as a recipe post because it is super easy. Toss a 16-ounce jar of peanuts with about a tablespoon of peanut oil (or a flavorless oil like canola) into a food processor and process for several minutes until a smooth, rich texture is reached. You can add more oil if needed or actually leave it out if you want it a little healthier and don't mind a slightly thicker peanut butter. I bought some pint-sized mason jars to store my homemade peanut butter in and plan to use it for lots of recipes and peanut sandwiches in my near future. I don't know what it is, but homemade peanut butter tastes so much better than store-bought, even the kind you freshly grind at the stores. Maybe it's all psychological, but Dustin agrees with me on its deliciousness.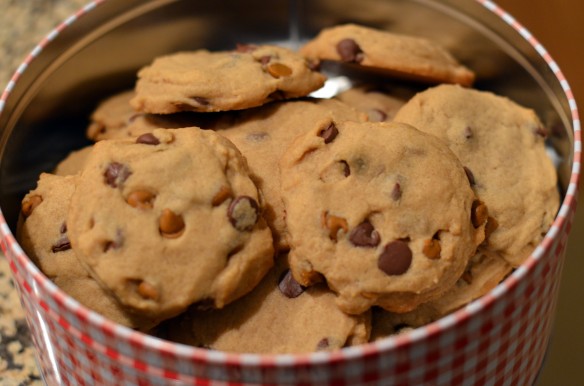 What better to do with as-fresh-as-you-can-possiblly-get-peanut butter than bake cookies? I went off in search of holiday cookie that incorporated peanut butter. I found these delicious looking peanut butter cinnamon cookies from Back For Seconds. Nothing says holiday season more than cinnamon. Peanut butter and cinnamon are a flavor combination I wouldn't have initially thought would wet my palette, but they totally work together. Cinnamon chips are where it's at and make a delicious addition to any baked goods.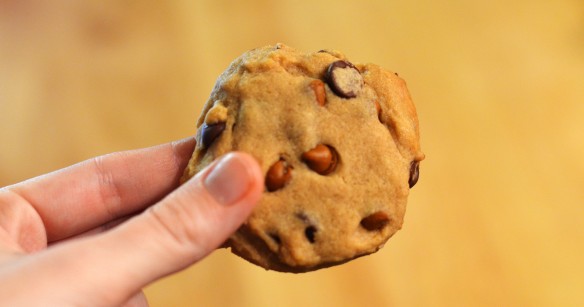 These cookies end up being a delicious monster hybrid of cinnamon cookies (snickerdoodles, please), chocolate chip cookies, and peanut butter cookies.
 Cinnamon Peanut Butter Chocolate Chip Cookies
slightly adapted from Back For Seconds
1 1/4 cups flour
1/4 teaspoon baking soda
1/4 teaspoon baking powder
1/4 teaspoon salt
1 teaspoon cinnamon
1/2 cup butter, softened
1/4 cup peanut butter
2 tablespoons white sugar
1/4 cup brown sugar, packed
1 egg
1 teaspoon vanilla extract
1/3 cup cinnamon chips
1/3 cup chocolate chips
Preheat oven to 350°.
Sift together flour, baking soda, powder, salt, and cinnamon in a medium sized bowl.
Use a hand mixer to cream together the butter, peanut butter, and sugars in a large bowl.
Add in the egg and vanilla extract, continuing to mix.
Slowly add the dry mixture to the wet mixture, and mix until fully incorporated.
Use a spatula to fold in the cinnamon and chocolate chips.
Use a cookie scoop to spoon balls of dough onto a silicone-lined or parchment paper lined baking sheet.
Bake for 10 minutes until the edges are browned and the centers look soft and puffy.
Allow to cool on the pan for a few minutes before transferring to a cooling rack.
Bonnie enjoyed me making homemade peanut butter because I let her lick the spoon!