Coconut Hot Cocoa
Merry Christmas Eve!
Tonight we plan on sitting around our Christmas tree, drinking hot chocolate and listening to Christmas carols! Tomorrow morning we plan on waking up to a delicious breakfast and opening our presents before spending the afternoon and evening with some friends where we shall create our own Christmas feast. We'll keep you posted on all of the results!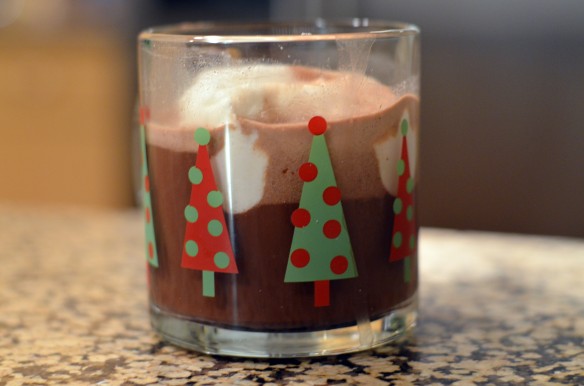 For a super rich hot chocolate with a hint of coconut, I chose to use coconut milk. It takes a bit more work, but it's much better than anything you can get from a powdered mix.
Coconut Milk Hot Chocolate
serves 4-6
1 14-ounce can full fat coconut milk
2 cups milk (we used low fat)
3.5 ounces high quality dark chocolate
1/4 cup Dutch process cocoa
1/4 cup granulated sugar + up to 2 tablespoons more (taste as you go along until desired sweetness is achieved)
pinch of salt
1 teaspoon vanilla extract
shredded coconut, for garnish (optional)
marshmallows (optional, but HIGHLY recommended— we used freshly prepared peppermint marshmallows from Whole Foods which were out of this world)
In a medium sized pot, heat the coconut milk and the milk on high heat.
Add in the dark chocolate and cocoa powder until chocolate is melted and cocoa powder incorporated. Bring to a simmer.
Add in the sugar (tasting frequently until the hot chocolate is sweet enough for your tastes.
Add in the salt.
Continue to cook for several minutes.
Remove from heat and stir in vanilla extract.
Ladle into mugs and garnish with shredded coconut and (peppermint) marshmallows.
I have never been a huge marshmallow person. I usually can take them or leave the, but homemade marshmallows may have permanently changed my opinion. I'd definitely like to make my own from scratch sometime soon!
I must warn you that this hot chocolate is incredibly rich and pretty calorie dense, but it's totally worth every luscious sip. Perfect for warming up on a cold Christmas Eve when you live in an apartment and can't sit by the fire!