Gingerbread Waffles
I am planning on eating as much gingerbread as humanly possible this December— for breakfast, lunch, and dessert. Dustin would probably kill me if I served him something gingerbread for dinner!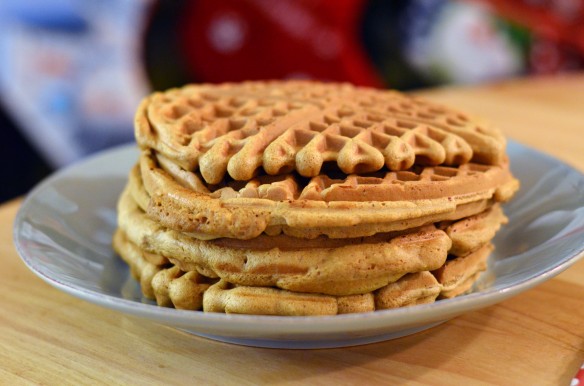 I love the flavor of gingerbread in waffles and pancakes, and have very fond memories of some delicious gingerbread pancakes from Kerbey Lane in Austin and the mix I used to purchase from HEB in Texas. Wanting to create a relatively healthy dish similar to Kerbey Lane's (and use my waffle iron since it has been collecting dust in the cabinet recently), I found a recipe on Food.com for healthy gingerbread waffles that I modified slightly. Best of all it uses no butter and incorporates whole wheat flour into the mixture.
Gingerbread Waffles
makes 5 round waffles
1 cup whole-wheat flour
1 cup all-purpose flour
2 teaspoons ginger
2 teaspoons cinnamon
1/2 teaspoon cloves
1/2 teaspoon nutmeg
4 1/2 teaspoons baking powder
1/2 teaspoon salt
3 tablespoons dark brown sugar
2 eggs, lightly beaten
1/2 cup molasses
2 tablespoons applesauce
1 1/2 cups low-fat milk
non-stick cooking spray
Preheat waffle iron according to specifications and use non-stick cooking spray if needed. I use the setting 4 (medium on mine).
Sift flours, spices, baking powder, and salt together in a medium bowl.
In a large bowl, combine sugar, eggs, molasses (spray cup with a non-flavored cooking spray before measuring to make it flow out easier), applesauce, and milk.
Slowly add the dry mixture to the wet mixture, and stir until just incorporated.
Pour the batter into the heated waffle iron and cook for approximately 3 minutes.
Serve with sugar free maple syrup if you want to keep things light, or go for the real deal if you'd like a little more decadence!
Even though our waffle iron makes regular waffles, not fluffy Belgian ones, these waffles came out really thick and fluffy. They were not quite as crispy on the outside as I would have hoped, but that's probably due to the lack of butter in the recipe, something I am willing to sacrifice to eat more gingerbread at a later date!