Homemade Eggnog (For Two)
Now that it's December, it is officially the holiday season! I'm not one of those people that like seeing Christmas decorations up before Thanksgiving, but by the start of December, I am ready for gingerbread, peppermint, and eggnog!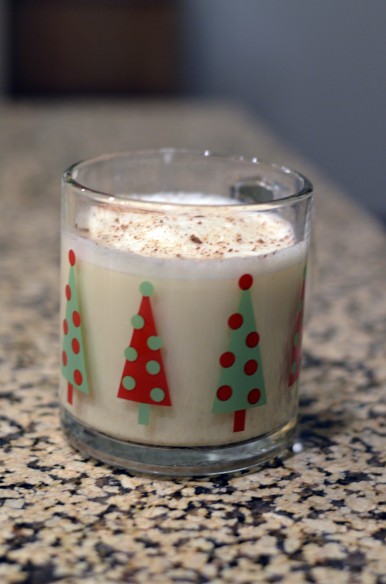 Both my Aunt Kathleen and my mom really like to decorate for the holiday, so I guess it's in my genes. As my aunt says, when she decorates, it looks like her house threw up Christmas! Besides my birthday, Christmas— the traditions, related foods, and of course spending time with family— is pretty much the only thing I look forward to during the winter, seeing as I generally hate the cold (and the fact that the sun sets at 4pm). So I guess the weeks leading up to Christmas and decorating are my way of building up anticipation for the holiday. Plus all of the cute snowman and reindeer decorations abound doesn't hurt.
Last Saturday, we actually had gorgeous weather here in Seattle. It was scarily sunny for late November, so we took advantage of our short dry time and headed over to Trinity Tree Farm in Issaquah to cut down our own Christmas tree. Ok, Dustin sawed it down while I held it at the top, so it didn't topple over and crush Bonnie (yes, Bonnie came along on our outing too). It was a pretty cool experience seeing all of these trees that just seemed to go on and on. They had four different kinds of trees growing on the farm, and each looked so pretty that indecisive Erin had a difficult time deciding which kind to get, much less which specific tree to get. In the end we decided on a 6.5 foot Frasier fir because the branches seemed strong and durable enough to hold my heavy ornaments. We had a great time walking around the tree farm, sipping gingerbread hot cocoa, and watching all of the families pick out their trees. Last year we bough a tree at Home Depot, but this experience was much more exciting, and given that we don't know how much longer we'll be living in these parts, we decided to make the most of our Pacific Northwest location. It's definitely not something you can do back in Texas. As long as we do live somewhere where do-it-yourself tree cutting is available, this will be a yearly tradition.
We got home, set up the tree, pulled all of the ornaments and decorations out of storage, and proceeded to spend the afternoon listening to Christmas music (my choice, not Dustin's), decorating, and getting in the holiday spirit. Our tree has a very unique theme. Or should I say unique set of themes— Texas, Texans, cupcakes, and huskies. I think that right there says a lot about me. Dustin really likes this picture of me putting the star on the tree.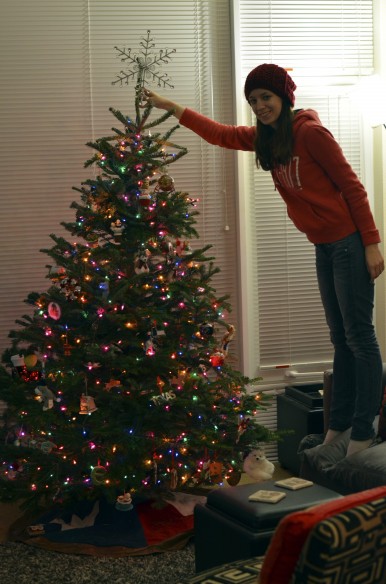 This same weekend I started my holiday baking and tried homemade eggnog with raw (pasteurized) eggs for the first time. I wanted to make a small batch— just enough eggnog for the two of us to drink right then and there— because let's face it, we really don't need a whole jug of calorie-laden eggnog sitting around.
To make the eggnog, separate two egg yolks from the whites. Combine the yolks with two tablespoons of granulated sugar and beat with a hand mixer until fluffy. Stir in 1 1/2 cups of milk (we used low-fat but whole would have made for the tastiest eggnog) and 1/4 cup of heavy cream along with a tablespoon of rum and a tablespoon of whiskey (omit for the non-alchoholic version, and maybe add two more tablespoons of milk/cream?), as well as 1/4 teaspoon of nutmeg (freshly ground is best, but we just used what I had on my spice cabinet, and it was delicious).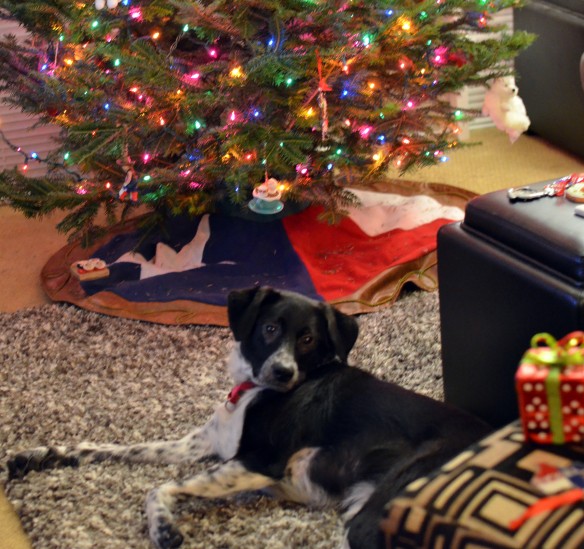 Now go back to your egg yolks, add in a tablespoon of granulated sugar and beat until the egg whites are as fluffy as you can get them. We just whisked the whites by hand, so ours didn't get too fluffy, but if they had, the texture would have been even more light and frothy. Pour into glasses and sprinkle with more nutmeg, and you have the perfect amount of eggnog for two people to enjoy without having to feel guilty about drinking too much of it or wasting an entire carton!