Prosciutto and Chanterelle Pizza
We made our first crispy-crusted pizza! Typically all of our homemade pizzas come out with thick, puffy crusts. This time we stretched the dough out super thin and cranked the temperature of our oven up. Previously, the hottest we'd ever cooked something in our oven at was 500°. This time we bumped it up to 525° and let the oven sit for about 30 minutes at that high temperature. Maybe next time  I'll even be brave enough to bump the temperature up to 550°. I am a bit terrified of starting a fire in the oven, though. We've already set off the smoke detectors with the oven at 525°. However, the whole-wheat crust we made got nice and crunchy at this high heat.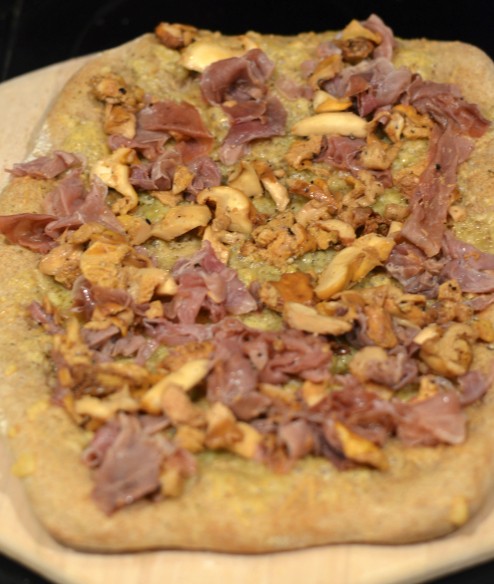 We rubbed some olive oil on the crust along with garlic powder and pizza spices before topping it with a light sprinkling of Monterrey Jack and Paremsan cheeses to keep it relatively healthy. Then we baked the pizza on a pizza stone for nine minutes until the cheeses were bubbling.
While the pizza was in the oven we cooked up some chanterelle mushrooms on the stove in a little bit of butter with salt and pepper for a few minutes. Once the mushrooms were cooked we added in some slices of high quality prosciutto de parma to the pan to get them warm. Once we pulled the pizza from the oven we added on the chanterelles and the proscuitto.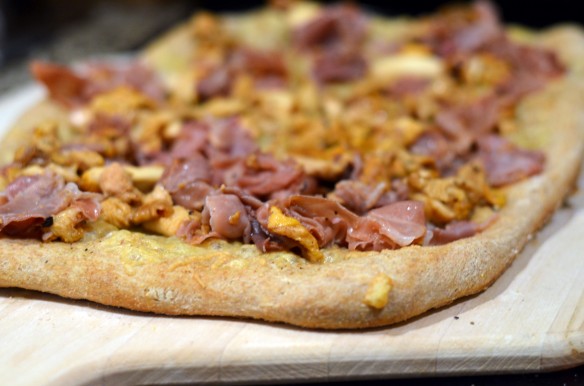 Dustin said he felt like putting all of the toppings on the pizza after it was baked felt like cheating, but I don't think so. These toppings were too delicate to put in that hot of an oven.
This pizza is by far my favorite that we've ever made. I don't know if it was the crust or the toppings or a combination of the two, but this pizza was incredible.