Pumpkin Macaroni and Cheese
I absolutely promise this is my last foray into pumpkin recipes. Until next fall, that is. Dustin says I'm obsessed, but I think I may have gotten him on the bandwagon after this macaroni and cheese. I have made numerous macaroni and cheeses since starting a record of my cooking on wafoodie; however, I think this one might be my absolute favorite. That's a pretty high compliment. Pumpkin plus aged extra sharp white cheddar is a match made in heaven.
Plus, you can reduce the amount of cheese in the recipe compared to normal macaroni and cheese thanks to the nutrition-rich pumpkin, so while not quite a health food, I think this qualifies as relatively healthy comfort food.
I adapted my recipe slightly from Brokeass Gourmet.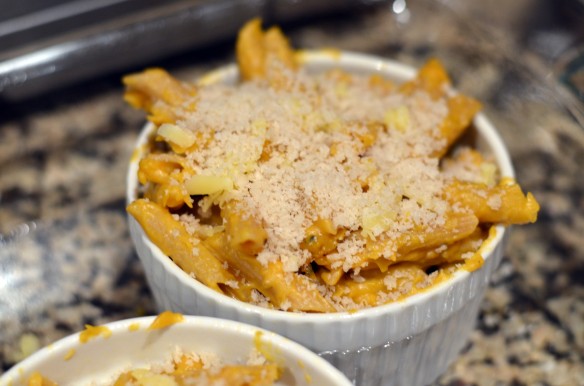 First, bring a salted pot of water to a boil and cook eight ounces pasta to al dente (I used penne instead of traditional shells, which Dustin described as somewhat blasphemous to macaroni and cheese, but I say whatever).
Once I added the pasta to the water, I began making the sauce and preheated the oven to 375°.
In a large saucepan, brown 1 1/2 tablespoons butter until you begin smelling the nutty aroma. It doesn't take very long since there isn't too much butter in the pan. Be careful not to burn the butter because that can happen fast!
Add in 1 1/2 tablespoons of flour to make a roux.
Pour in 1 1/2 cups of milk and stir until creamy.
Add in 1/2 cup of freshly shredded aged, extra sharp white cheddar. I can't vouch for the flavor of other kinds of cheese used, however I'd recommend looking for extra sharp white cheddar (we used Tillamook), and it was outstanding.
Whisk in half a cup of pureed pumpkin, and season with salt, pepper, and just a pinch of nutmeg to taste. Be sure not to eat the entire pot of sauce at this point, which will be difficult because it is that good.
At this point your pasta should be done boiling. Drain the pasta and dump it into the pot with the pumpkin and cheese sauce. Toss the pasta to thoroughly coat with sauce.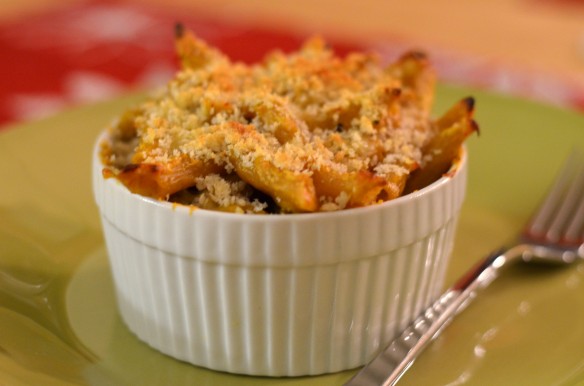 Spoon pasta into cooking-sprayed ramekins (I used three personal sized ones) sitting in a baking dish to make it easier to get them in and out of the oven. Sprinkle with Panko bread crumbs, a little more salt and pepper, and if desired, a bit more shredded cheese.
Bake for 15 minutes. Then turn the broiler on low for 3 minutes or until the desired browness/crunchiness on top is reached.