Roasted Onion & Shallot Dip
French onion dip is one of those things you usually buy prepackaged for parties and get togethers, but the homemade version is so much better tasting and better for your heart.
You can spend a good while standing over the stove caramelizing onions and shallots on the stove. Or you can roast them as we did when inspired by this recipe from Bon Apetit.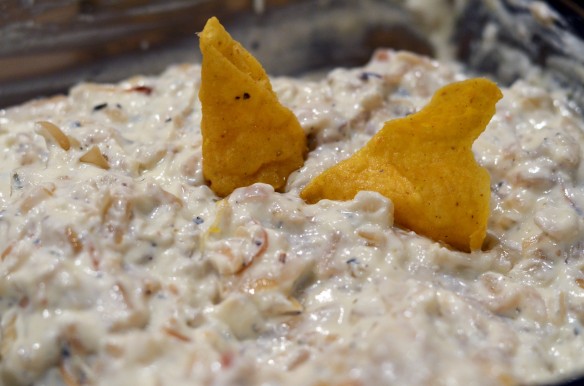 Slice two medium yellow onions and two large shallots. Then throw them in a large pan with some olive oil (approximately 1/4 cup) and a variety of dried herbs and spices. After about 45 minutes of roasting (while you can watch TV instead of stirring onions, and you get additional warmth in your apartment without turning on the heater), add in 2 tablespoons of sherry vinegar and 1/2 cup of dry sherry for flavor and roast another 10 minutes.
When the roasting is finished, allow the onions to cool before chopping them into small pieces, adding them along with some chopped scallions, a clove of pressed garlic, salt, and pepper to a bowl mixing with approximately 1 cup fat-free Greek yogurt and 1/2 cup low fat-sour cream. Adjust the mixture to taste. We were feeling extra onion-y that day, so we added a little bit of onion powder to the creamy mixture. Way healthier than the store bought version— but just as creamy with an even better, deeper flavor that would be perfect for as an appetizer dip this winter served with crackers, or Dustin's favorite— Juanita's tortilla chips.