White Chocolate Peppermint M&M Cookies
Think white chocolate macadamia nut cookies and replace the macadamia nuts with peppermint. Sound good? Well, that's exactly what these taste like! Of course, when I heard M&M was releasing White Chocolate Peppermint M&Ms exclusively through Target, I knew we'd have to make a trip to buy some. We hit the Christmas candy aisle pretty hard!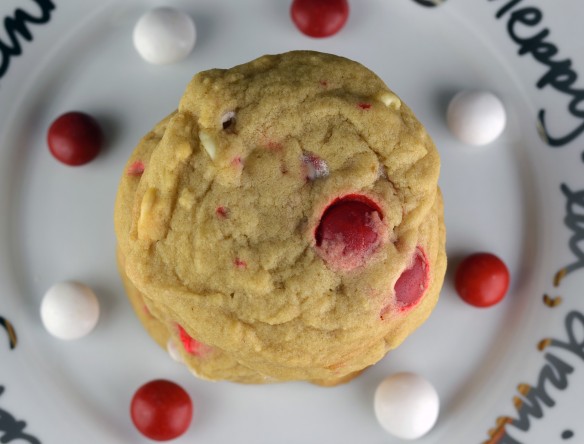 They come together really easily, so you can make them last minute before taking them over to a friend's for an impromptu dinner. These would be great for a holiday cookie exchange.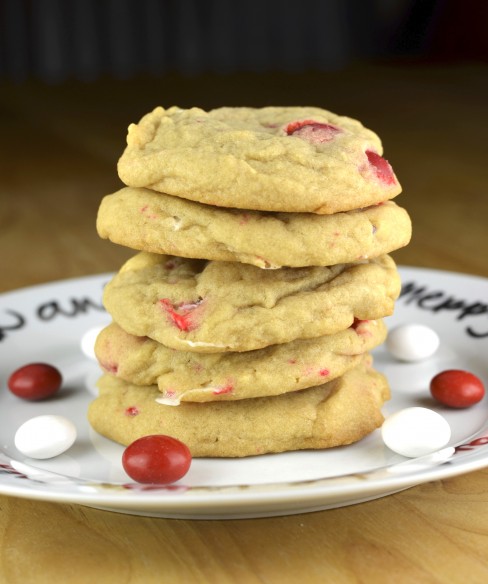 White Chocolate Peppermint M&M Cookies
adapted slightly from Two Peas and Their Pod; makes 1 1/2 dozen cookies
1 1/2 cups all-purpose flour
1/4 teaspoon salt
1/2 teaspoon baking soda
1/2 cup butter, softened
1/3 cup light brown sugar, packed
1/4 cup granulated sugar
1 egg
2 teaspoons vanilla extract
1/2 cup white chocolate chips
3/4 cup White Chocolate Peppermint M&Ms
2 full size candy canes, crushed
Preheat the oven to 350°.
Sift flour, salt, and baking soda together into a medium sized bowl.
Cream together butter and sugars until light and fluffy using a hand mixer.
Add in the egg and vanilla extract and continue beating.
Slowly add the dry mixture to the wet mixture until just combined.
Fold in the white chocolate chips, M&Ms, and crushed candy canes.
Use a cookie scoop to scoop out spoonfuls of dough onto cookie sheet lined with a baking mat or parchment paper. Bake for 12-14 minutes until the edges are browned but the centers look slightly underdone.
Allow to cool on the pan for 5 minutes before sneaking one (and moving the rest to a baking sheet)!