Black Cod + Homemade Romesco Sauce
In 2013, like most people, we have some New Year's resolutions. Namely to exercise more and eat a little healthier. Don't worry, we still have lots of desserts planned. We've still got to treat ourselves! But we'd like to cook more healthy dishes with more veggies, particularly the green ones.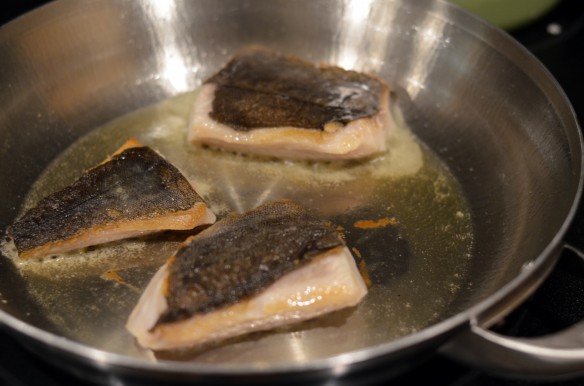 To start the new year, we share our dinner of sautéed black cod with romesco sauce and a side of asparagus. Originally we were going to make halibut like in the recipe from Cooking Light, but instead we found this fresh black cod at the grocery store and called an audible. Black cod (AKA sablefish) is fatty just like salmon and full of omega-3s for good health and is rich and buttery on its own cooked in a little oil with salt and pepper. Black cod is one of the dishes we ate at Sushi Kappo Tamura, and Dustin ordered it at Pearl in Bellevue, and the flavor and texture really impressed us.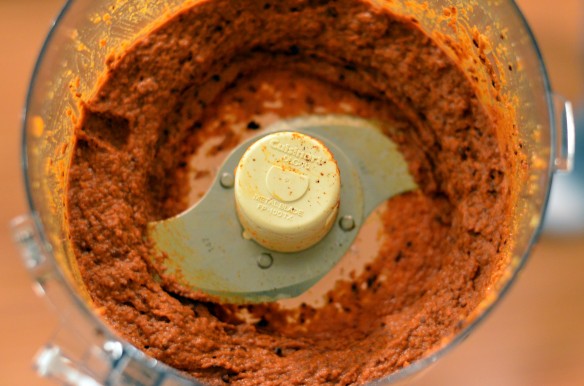 To make the romesco sauce, roast 2 medium red bell peppers under the broiler for about 10 minutes until the skin starts to blacken. Add a dried ancho chile (or two if you want it extra spicy like us) and roast for another 2 minutes. Allow the peppers to cool, then peel the bell peppers and add them and the roasted ancho chile to the food processor.
While the peppers are roasting, toast 2 tablespoons of slivered almonds on a small pan on the stove or in your toaster oven for a few minute at low temperature, taking care not to burn them.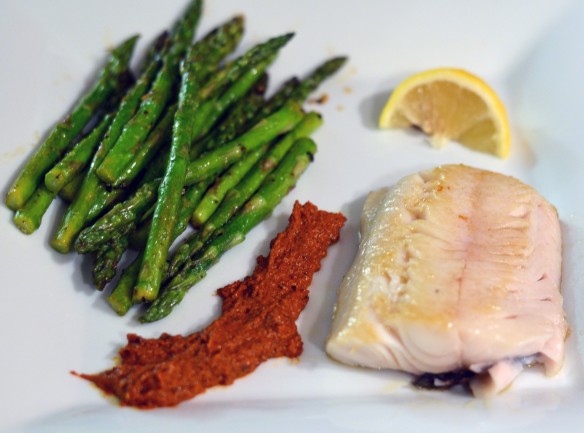 Add the almonds, a slice of soft whole-wheat bread, a tablespoon of olive oil, a tablespoon of red wine vinegar, 1/4 teaspoon of sugar, 1/4 teaspoon red pepper flakes, 3 cloves of garlic, and salt and pepper to taste. Then process for several minutes until smooth.
Serve the fish alongside the romesco sauce and a veggie of your choice.
The new year is off to a great, healthy start!