Butternut Squash Enchiladas
While sadly, we have not found any Tex-Mex out here worth our time or the calories, we have stumbled across a few "Southwestern" style restaurants in the area. The salsas are different and so is the cheese, and really just about everything else, but words like enchilada and taco are familiar, so we can appreciate the cuisine.
One of the local chains out here is called Cactus, and they make some pretty incredible stacked, Santa Fe style enchiladas. Dustin had a fabulous, creamy seafood enchilada with a mix of prawns, scallops, and snapper, while I had a unique butternut squash enchilada with jack and goat cheeses, sauteed spinach, caramelized onion, mole rojo, and guacamole.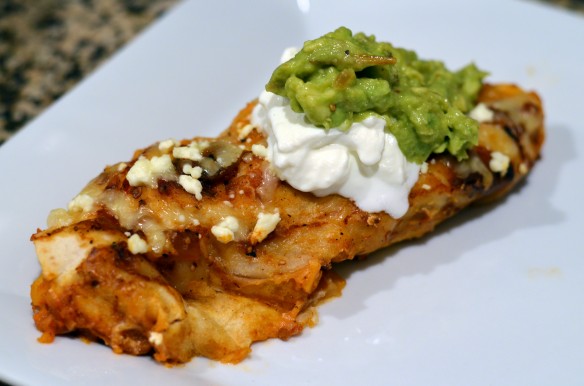 I decided to make my own butternut squash enchiladas (Tex-Mex style), roasting the butternut squash and mixing it with goat cheese, pepper jack cheese, and slowly caramelized onions as the filling. I intended to add spinach, but I am a little upset with myself that I forgot to buy it that week, so we had to make without. Also, I forgot to buy spice powder that would allow me to mix the spices with water to create an easy mole since I wasn't interested in investing the many hours it takes to make a good mole. Instead I just combined some chipotle salsa with all of the Mexican spices I had on hand to give it a kick— chipotle powder, chili powder, and cumin— to name a few. Butternut squash and Mexican spices go so perfectly well together (topped with cheese and guacamole, of course), but I definitely want to remake these with a mole sauce and the spinach for the full-on experience. Nevertheless, this was a fun throw-together, add-whatever-spices-you-want, no-measuring-anything kind of dinner!
And yes, for your information, these were made in December, well before Dustin ordered butternut squash enchiladas on our trip in Scottsdale. And yes, he did complain about an overabundance of butternut squash recipes when I made them...