Champagne Waffles
I stumbled upon a recipe for waffles using champagne in the batter around New Year's Eve as a way to use up leftover champagne from an evening of celebration. We weren't planning on eating breakfast on New Year's Day, as we didn't plan on getting up until afternoon, and even then we didn't plan on cooking. I decided maybe this would be a fun Easter brunch or good for our first warm weekend in Seattle where we might fathom eating outdoors on our patio again. But I couldn't shake wanting to make these waffles, so they were made significantly earlier than expected. With some things, I have absolutely no patience.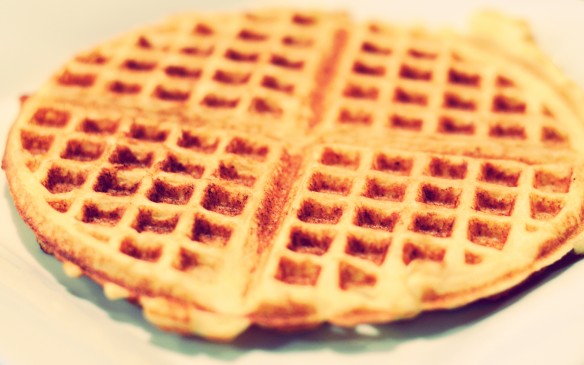 The bubbles in the champagne keep the waffles light, airy, and fluffy. I'm not sure if you can really taste any of the champagne flavor in the waffles. All I really noticed of the waffles was the texture highlighted next to the intense flavors of the homemade blood orange-pomegranate syrup and the chocolate butter we made to eat along with the waffles.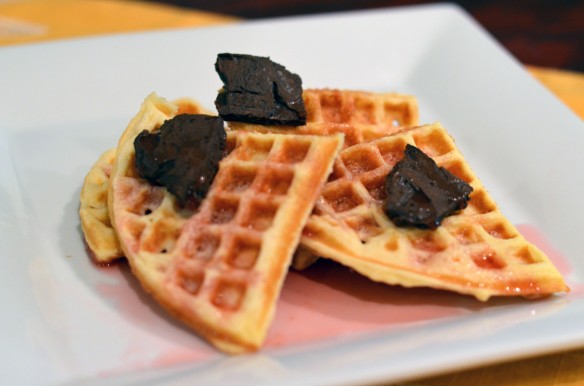 Both the butter and the syrup can be made the night before to make this easy waffle making process even easier.
Champagne Waffles, Chocolate Butter & Blood Orange-Pomegranate Syrup
adapted from Gilt Taste; yields 6 waffles in standard sized waffle maker
Waffles
1 cup all purpose flour
3 tablespoons granulated sugar
1 tablespoon baking powder
1/2 teaspoon salt
1/4 cup butter, melted
1 large egg
1 teaspoon vanilla extract
1 cup champagne
Preheat waffle maker to a medium-high heat according to instructions.
Combine the flour, sugar, baking powder, and salt in a small bowl.
In medium-sized bowl combine the melted butter, egg, vanilla extract, and champagne. Do not add the champagne until waffle maker is ready and you are actually ready to cook the waffles or else the bubbles will die away.
Slowly add the dry ingredients to the wet ingredients and mix until uniform. The batter will be quite thick.
Ladle the batter into the waffle maker and cook according to waffle maker instructions (I cooked mine for 3 minutes).
Chocolate Butter
1/4 cup butter, softened
3 tablespoons unsweetened cocoa powder
3 tablespoons powdered sugar
Use a hand mixer or a rubber spatula to combine butter, cocoa powder and sugar a small bowl.
Once the butter is a smooth texture and a deep brown color, use a spatula to transfer the butter into a thin layer on a sheet of wax paper and place in the fridge until hardened.
Cut into small pats for serving.
Syrup
1/2 cup blood orange juice
1/2 cup pomegranate juice
3/4 cup granulated sugar
1/4 teaspoon salt
In a small saucepan, combine blood orange and pomegranate juices along with the sugar and salt over medium-high heat.
Stir until the sugar is completely dissolved.
Remove from heat and transfer to appropriate serving vessel to allow the syrup to thicken and cool.