Coconut Oatmeal Cookies
Bonnie's lips and nose have been incredibly dry lately, whether from her allergies and the medications she's been taking or just the colder weather. But I've been trying to keep her hydrated with coconut oil. I searched and searched for a good substitute to Vaseline since she tends to completely lick off anything I place within reach of her tongue. Coconut oil actually has a ton of benefits for both dogs and humans, plus it smells delicious, so every time I open the jar to slather it on Bonnie, I really want to take a spoonful for myself.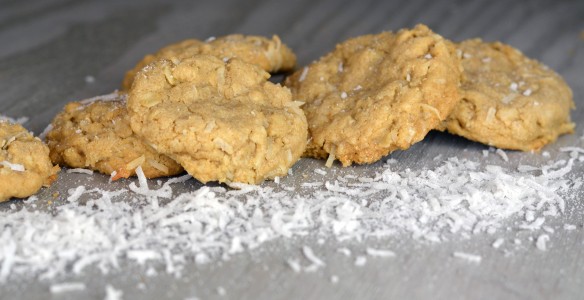 I decided to incorporate some of that coconut oil into cookies (and to exclude the butter). There is rich coconut flavor bursting from every bite of these soft, slightly chewy, and kinda healthy cookies. If you like coconut, you should make these cookies right now. And if you are feeling adventurous, these would make a fantastic base to which to add macadamia nuts and white chocolate chips— a little taste of tropical paradise.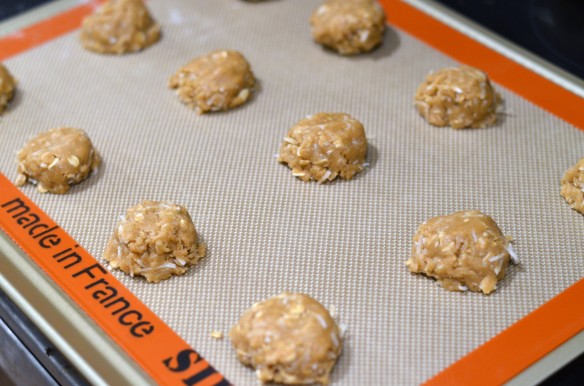 Coconut Oatmeal Cookies
adapted from this recipe from Lil' Luna; yields approximately 1 1/2 dozen cookies
1/2 cup coconut oil, melted and cooled until texture is similar to softened butter
1/3 cup granulated sugar
1/3 cup brown sugar, packed
1 large egg
1 1/2 teaspoons vanilla
1 1/2 cups whole wheat pastry flour
1/3 cups old fashioned oats
1/2 teaspoon baking soda
1 teaspoon baking powder
1/2 teaspoon salt
2/3 cup sweetened shredded coconut
Preheat the oven to 375º and line a baking sheet with parchment paper or silicone baking mat.
In a large bowl, use an electric mixer to beat coconut oil and sugars until light and fluffy.
Add in the egg and the vanilla and beat until smooth.
In a medium sized bowl, mix together flour, oats, baking soda, baking powder, and salt.
Slowly add the dry ingredients to the wet ingredients.
Mix in the shredded coconut by hand.
Using a medium sized cookie scoop, scoop a ball of dough out and place it on the cookie sheet, slightly flattening the top.
Bake for 8-9 minutes or until the cookies are just barely set.
Allow to cool on the pan for 5 minutes and then transfer to a wire cooling rack.