Compost Cookies
Compost cookies might not sound like an appealing name, but neither were the other options: "garbage cookies" or "kitchen sink cookies." Promise me when I say these cookies are delicious despite the name, with a little bit of everything you can think of in a cookie recipe (minus the kitchen sink). Basically the idea for this cookie started as chocolate chips cookies, except the baker didn't have enough chocolate chips for an entire batch, so a hodgepodge of different ingredients were thrown in, and thus the compost cookie was born.
What's super cool about these cookies is that each time you make them, they can taste a little different as you experiment with new add-ins. And just like saying no two snowflakes are alike, no two batches or even bites of these cookies are alike.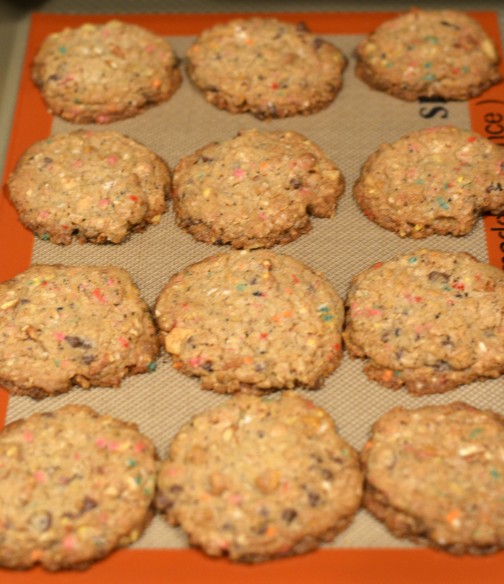 I think adding pretzels and potato chips to a sweet cookie is genius and doesn't taste nearly as weird as it sounds. It totally combines sweet and salty in a perfect marriage of flavors. However, this cookie isn't your traditional marriage of flavors— it's more like a polygamist one. In addition to potato chips and pretzels, these cookies have chocolate chips (both mini and regular size, as I finished off remnants of two different bags), butterscotch chips, peanut butter chips, oatmeal, honey graham crackers, coffee grounds, and sprinkles for a little color. Other future ideas to add to or replace ingredients in the previous list include raisins or other dried fruit (yawn for us, but if that's your thing, go for it), cinnamon chips, white chocolate chips, or just about any nut imaginable. Nearly any of your favorite junky snack foods should work!
I really enjoyed these cookies, and I think Dustin did, too, as these thinner, crispier cookies are not something I bake too often.
Compost Cookies
original recipe from Momofuku Milk Bar cookbook, added to and modified for ease and our taste buds; yields ~2 dozen cookies
1 cup unsalted butter, softened
1 cup granulated sugar
1 tablespoon light corn syrup
1 egg
1/2 teaspoon vanilla extract
1 1/3 cup flour
1/2 teaspoon baking powder
1/4 teaspoon baking soda
1 teaspoon salt
1/2 cup chocolate chips (mini or regular)
1/2 cup butterscotch chips
1/2 cup peanut butter chips
1/2 cup honey graham crackers, crumbled
1/3 cup old-fashioned rolled oats
3 teaspoons ground coffee
1/4 cup sprinkles
1 cup pretzels, broken into small pieces
2 cups potato chips (don't crush them)
In a large bowl, use a hand mixer to cream together the butter, sugar, and corn syrup until fluffy.
Add in the egg and vanilla extract, beating on medium-high and scraping down the sides of the bowl, for at least 5-6 minutes until your mixture is very smooth.
In a medium sized bowl, combine the flour, baking powder, baking soda, and salt.
Slowly add the dry mixture to the wet mixture.
With the mixer on medium-low, add in chocolate chips, butterscotch chips, peanut butter chips, oats, coffee, sprinkles, and pretzels.
With a rubber spatula, slowly add in the potato chips crunching them up slightly, but making sure to leave decently large chunks for some crispiness in the cookie.
Cover the dough with plastic wrap and chill in refrigerator for at least 2 hours.
Use an ice cream scoop to scoop balls of dough onto a silicone or parchment paper lined baking sheet for 16-18 minutes or until edges are golden brown. Cool on the baking sheet for 5 minutes before transferring to a wire cooling rack. Best eaten warm, but they'll stay well sealed at room temperature for up to 5 days.
A note on chilling time: I baked my first dozen of these cookies after just an hour, and I think the dough needed more time to chill. It was still a little harder to work with than I would have liked. By the time I had made my second batch, the dough had been in the refrigerator for a day and a half and the cookies texture was changed from the first batch— much tougher edges. Next time I think I'd try to find a happy medium as indicated in the recipe.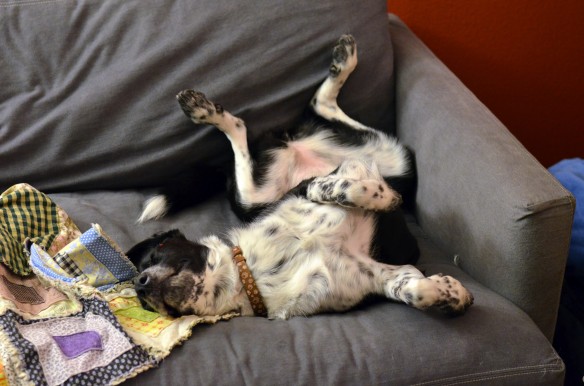 These cookies were originally made during Wild Card weekend to watch our Texans play football. After I made them, I hoped I hadn't jinxed their play off run by making "compost cookies." Fortunately enough, they didn't play like garbage and managed to eke out a victory. Unfortunately, victory eluded us this week, but I still love my Texans.