Goat Cheese & Hazelnut Pesto Pasta with Spicy Chili Oil
Hazelnuts make me think of winter, so when we were making homemade pasta during the winer months, I think this goat cheese and hazelnut pesto pasta is the perfect sauce/topping for a cold night.
To give the dish some spice, we made our own chili-infused olive oil to add to the top by cooking a few sliced serrano peppers and sliced jalapeños in oil on medium-low heat. A few of each of those peppers sure did the job!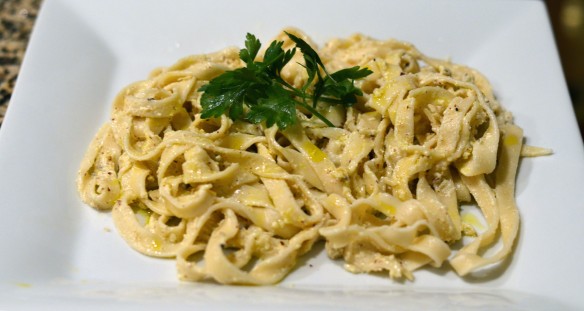 We used the oil to accent a delicious goat cheese and hazelnut pesto— 1/4 cup chopped hazelnuts, 1/4 cup olive oil, 1 cup fresh basil, 2 cloves of garlic, 4 ounces of softened goat cheese, 1/2 teaspoon red pepper flakes, and salt and pepper to taste, combined in a food processor until only a few chunks remain. We tossed the sauce with freshly made linguine noodles and slowly spooned our chili-infused olive oil to the top. Using the oil was a great way to control the amount of the spice on this dish. Dustin typically likes his food spicier than me, so we were both able to adjust the pasta's heat to our own liking.
To add some vegetables to this meal, add in some roasted red bell peppers, as I originally intended, but somehow bell peppers didn't end up in my cart at the grocery store. Perhaps some sautéed spinach might also be a nice addition.
Even without the veggies, there is plenty of kick to this wintery pasta dish that's sure to light a fire in you on a cold January day!