Italian Enchiladas
Calling these Italian enchiladas would probably be blasphemous to an Italian, but I didn't have a better name for replacing enchilada sauce with tomato sauce. These were so good and simple, I can't believe it's something we've never thought of doing before.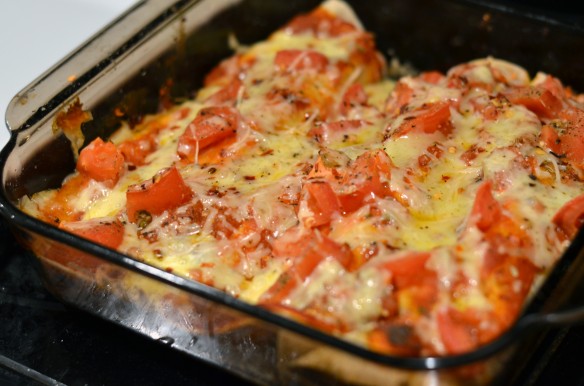 I took leftover tortillas spread a little tomato sauce on them before stuffing them with shredded poached chicken, chunks of fresh mozzarella, and Italian spices (basil, oregano, and garlic). Then I rolled the tortillas up, placed them in a pan, misted them with olive oil, and covered them with loads of tomato sauce, freshly chopped tomatoes, and Monterrey Jack cheese. I sprinkled the top with some more spices and some red pepper flakes. Enchiladas need a little kick to them, so I figured red pepper was the way to go.
Bake the enchiladas in the oven at 350º for 30 minutes covered with aluminum foil and another 10 minutes uncovered until the enchiladas are thoroughly heated, the cheese is melted, and the edges of the tortilla are crisp.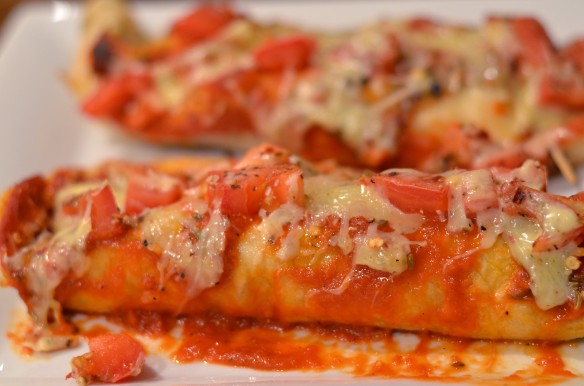 Ground pork would taste great in these as well (or maybe even pepperoni— pepperoni pizza enchiladas!), but we stuck with chicken since we are watching what we eat more carefully. Next time, I think I'd also add in some black olives and maybe chunks of roasted garlic for a little extra punch of flavor.