Momofuku Crack Pie
No, there is no crack in this legendary "pie" from Momofuku Milk Bar, but it is so addictive that you can't stop eating it according to many :).
It doesn't look like anything special, but it's a rich and gooey treat that has a flavor quite unlike anything you've ever tasted before. The best way to describe it is kind of like pecan pie filling, minus the pecans, but more creamy and buttery if that makes any sense at all. The powdered milk and the corn powder give it a slight hint of something different, as well.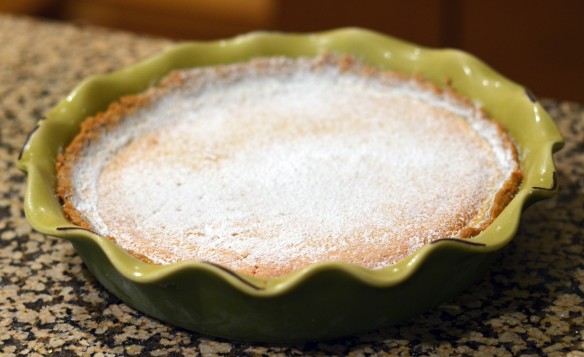 The thing that drove me crazy about this recipe was that it was to make two pies. Yes, I realize I can freeze one, but with the way I bake, I really don't need an extra pie sitting in my freezer. So although it was kind of a pain in the rear, we scaled back the recipe to only make one pie. We had some issues with the cooking of this pie. We cooked it significantly longer than the recipe called for and it was still pretty jiggly throughout. I think our biggest problem was that we took this pie to a party where it was stored in the refrigerator after the initial freezing for several hours, and the filling was way too runny. However, if you follow Momofuku's instructions more precisely in regards to the storage temperature and time, you'll probably have better results. Even if you have a runny, sticky mess, tell everyone that's how it is supposed to be, and nobody will think twice as they gobble it down.
This is how we rang in the new year...Starting it off sweet!
Momofuku Crack Pie
scaled down and slightly modified to make 1 pie; from Momofuku Milk Bar Cookbook by Christina Tosi
Oatmeal Cookie Crust
1/4 cup butter, room temperature
1/4 cup brown sugar, packed
1 tablespoon granulated sugar
1/2 large egg yolk (whisk in a small bowl, and pour half out)
1/4 cup flour
3/4 cup old-fashioned rolled oats
1/8 teaspoon baking powder
pinch of baking soda
1/4 teaspoon salt
Preheat the oven to 350°.
Line a 9"x9" pan with parchment paper.
Combine butter and sugars in a large bowl and mix with a hand mixer on medium-high until the mixture is fluffy.
Add in the egg yolk and beat until the mixture is smooth.
In a medium bowl, combine the flour, oats, baking powder, baking soda, and salt.
Add the dry mixture to the wet mixture until fully combined.
Spread the dough in the pan to a height of 1/4" (it won't quite cover the entire bottom and does not need to look pretty).
Place the pan on a wire cooling rack and allow to completely cool.
Use a spatula to remove the cookie from the pan and break into large pieces.
Filling
3/4 cup granulated sugar
1/3 cup brown sugar, tightly packed
1/8 cup powdered milk
1/8 cup corn powder (not corn flour, you can use freeze dried corn found at Whole Foods and process until a powdery consistency is reached)
3/4 teaspoon salt
1 cup butter, melted
1/3 cup heavy cream
1/2 teaspoon vanilla
4 large egg yolks (absolutely NO whites!)
In the bowl of a stand mixer, mix the sugars, powdered milk, corn powder, and salt on low speed until evenly combined.
Add melted butter and mix until uniform and mix on medium.
Add cream and vanilla until combined, making sure to scrape down the sides of the bowl.
Add egg yolks and mix until the mixture is completely smooth.
For Assembly
2 teaspoons brown sugar, packed
1/4 teaspoon salt
2 tablespoons butter, melted
non-stick cooking spray
powdered sugar, for dusting
Preheat the oven to 350°.
Place oatmeal cookie, sugar, and salt into a food processor and process until the mixture looks like wet sand.
Add the butter and form the mixture into a bowl. Add in another tablespoon of melted butter if you need more moisture.
Press the buttery crumbs into the bottom of a 9" pie pan.
Pour the filling over the crust.
Bake the pie in the oven for 15 minutes. It will still be jiggly.
Reduce the temperature of the oven to 325° and bake for another 15 minutes (but check at 5 minute intervals to avoid over-baking). The top should be golden in color, the outside set, and the very center jiggly.
Allow the pie to come to room temperature on a cooling rack.
Cover the pie with aluminum foil and allow to sit in the freezer for at least 4 hours. Allow to sit out for just a few minutes before slicing and serving cold.
Pie can be stored in the fridge, well wrapped, for up to 1 month.