Deconstructed (and Lightened) Jalapeño Popper Dip
Hit #1 from our Super Bowl party appetizers.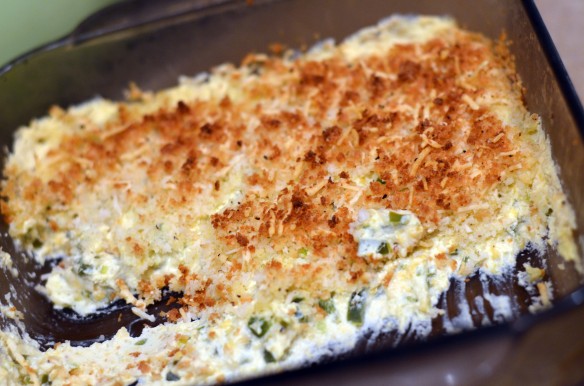 At the party we went to, everyone was asked to bring an appetizer to watch the big game. Normally I'd bring dessert, but a long standing and fattening tradition at the Super Bowl party we went to is Super Bowl Sundaes. Literally there were 5 kinds of ice cream, numerous toppings from candy and crushed cookies to all kinds of sauces, and way too many calories to count. Needless to say, an extra dessert was not needed. Really we had more than enough appetizers, too. And lots of pizza and wings (made for us by former residents of Buffalo, so you know you can't pass them up because they are going to be good). Sunday was a little overindulgent for us. All of our hard work in the gym for the last few weeks, pretty much erased :).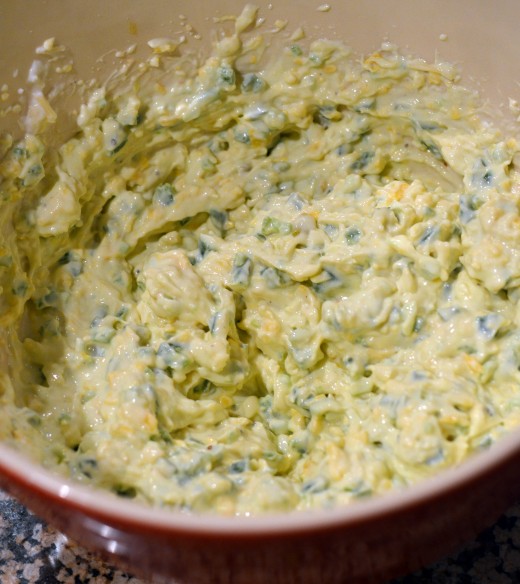 Neither of us really cared who won since both of our choices to make it to the Super Bowl were knocked out the Sunday of the Divisional Round. Ultimately, we were just glad the Pats didn't win. However, we spent a few bucks on a pool and would have won the final jackpot round had the Niners been able to score a touchdown on that last drive, so that's where our loyalties were lying at that point.
I wanted to bring a Super Bowl worthy appetizer dip, but didn't want to bring a standard 7 Layer or Spinach-Artichoke dip since I knew somebody else probably had those covered (they did). Instead we took a different kind of appetizer, deconstructed it, and turned it into a dip. I also wanted to serve a lightened up dip (read above). Seriously nobody was able to tell that it had been lightened up, and everyone complemented it. When I told one person who apparently is not a fan of lightened up foods, that it was indeed a "light" version, he said "Don't ruin it for me."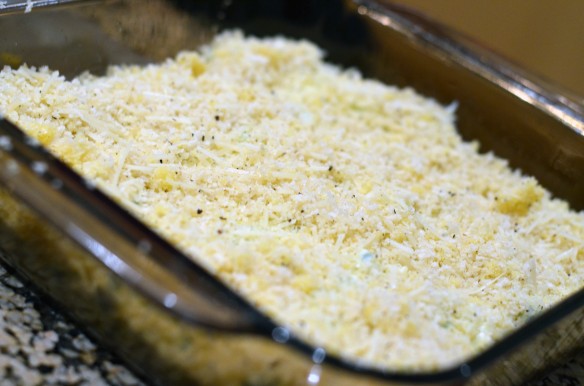 Basically it's the best part of a jalapeño popper, the creamy filling, magnified, but you still keep the spice and crunch of the jalapeño. And you get to serve it on a tortilla chip. We tasted the dip before it was baked, and it was quite spicy, but for whatever reason it really mellowed out after baking to a spice level that was perfect for someone who likes their dips on the milder side. I really like the version of the dip we chose to make because of the addition of the green chiles.
Deconstructed (Light) Jalapeño Dip
Adapted from Ring Finger Tan Line
1 8-ounce block reduced fat cream cheese, softened
2/3 cup fat-free Greek yogurt
2/3 cup sharp cheddar cheese, shredded
1/2 cup parmesan cheese, shredded and divided
4 jalapeños, seeded and finely chopped
2 tablespoons green chiles (or more!)
salt to taste
pepper to taste
1/2 cup panko bread crumbs
1 tablespoon light butter, melted
Preheat oven to 350º.
Use a hand mixer to blend together the cream cheese and Greek yogurt until smooth and uniform in a medium sized bowl.
Add in the cheddar cheese, 1/4 cup of parmesan, along with the jalapeño and green chile.
Season with salt and pepper to taste.
Transfer dip to an 8"x8" baking dish.
Combine 1/4 cup parmesan, panko bread crumbs, and butter in a small bowl. Spread the crumb topping over the dip.
Bake the dip for 20-25 minutes then turn the broiler onto high and broil for about 2 minutes or until the bread crumb topping has browned and crisped, but keep an eye on it, so it doesn't burn.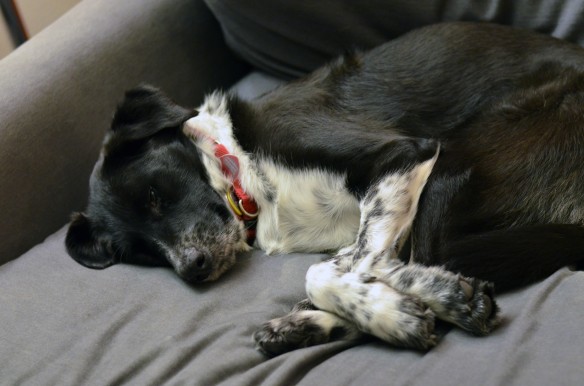 Bonnie didn't get to watch the Super Bowl, so she just slept.