Red Velvet Pancakes
Our first Valentine's Day as a married couple will be spent apart, as I will be leaving for New York at 7 AM on Thursday (fingers crossed NYC will have recovered from the blizzard and there aren't any more storms on the way), so we celebrated Valentine's Day a little early with red velvet pancakes and cream cheese glaze for brunch over the weekend (while watching House of Cards on Netflix...so good).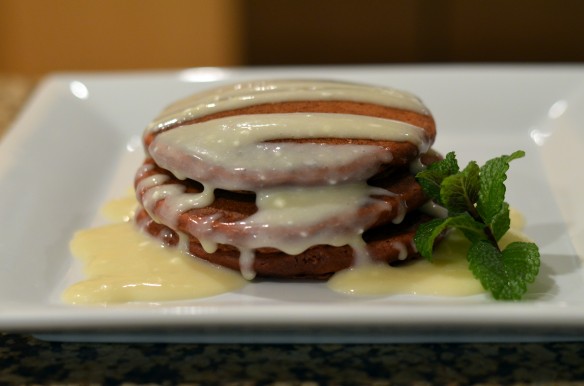 Dustin has become an expert with the griddle, so I whipped up the batter, and he cooked them while I made the glaze, which is nothing short of amazing. Nothing better than teamwork cooking for a tasty Valentine's Day meal. And there's no better flavor than red velvet on this day either (in pancake or cupcake form minus the blood and glass for this romantic holiday)!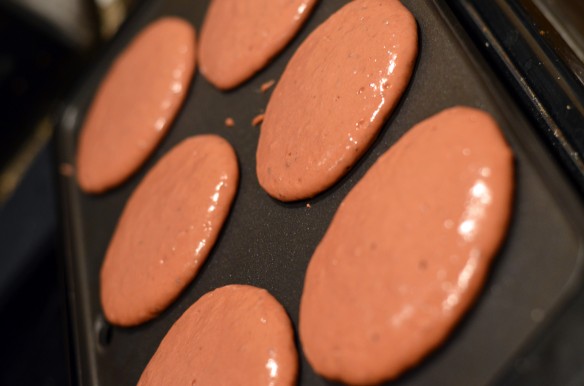 Red Velvet Pancakes
~makes 8-9 pancakes
Pancakes
1 cup buttermilk (or 1 cup milk + 1 tablespoon vinegar, allowed to sit for 5 minutes if you don't have any buttermilk)
1/3 cup granulated sugar
1 large egg
1 teaspoon vanilla extract
1 tablespoon unsalted butter, melted
2 teaspoons red food coloring
1 cup all-purpose flour
2 tablespoons cocoa powder
2 teaspoons baking soda
1/4 teaspoon salt
Combine buttermilk (or milk + vinegar), sugar, egg, vanilla, butter, and food coloring together in a large bowl until smooth.
Whisk together the flour, cocoa powder, baking soda, and salt in a medium bowl.
Slowly add the dry ingredients to the wet, and mix until just combined and there are no more lumps.
Allow the batter to rest and heat a non-stick griddle to medium-high.
Ladle the batter on the griddle and cook the pancakes until you notice bubbles around the edges. Flip and cook until both sides have browned.
Cream Cheese Glaze
3 ounces cream cheese (reduced fat works), softened
2 tablespoons butter, softened
3/4 cup powdered sugar
1/4 cup milk
1/2 teaspoon vanilla extract
Combine the cream cheese and butter together until smooth.
Add the powdered sugar, milk, and vanilla until you get everything incorporated. Go slow with the powdered sugar and milk, adding more or less to reach the desired consistency.
Spoon the glaze into a plastic bag, then snip a corner off and ice your pancakes with the glaze!
Even though we won't be spending Valentine's Day together, Dustin will be joining me in New York for the weekend. We are both pretty excited for bagels, Reuben sandwiches, pizza, and of course all of the desserts we can handle!