Spaghetti (Squash) & Turkey Meatballs
How hard it it to find spaghetti squash? Apparently really difficult around us. Whole Foods hasn't ever had them when I've looked, and Amazon Fresh can't seem to keep them in stock when they are delivering to me. But I finally got my hands one, and decided to make low-carb spaghetti and turkey meatballs with marinara. We've joined a fancy gym/sports club here about a month ago (courtesy of Microsoft), and we are really trying hard to work out more and eat healthier. We got off to a little bit of a late start with our 2013 resolutions, but we've been doing really well in the last month. Dustin's already lost some weight, and I've definitely built up some muscle.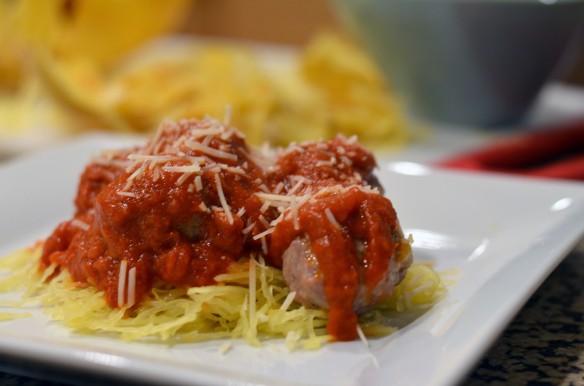 I knew spaghetti squash was a great substitute for pasta since it has a mild flavor, and you can dress it up with whatever flavors and sauces you'd like, but Dustin was completely unsure about using squash in place of pasta. He kept asking me if it tasted like pasta or just looked like pasta, and kept telling me to expect him to be disappointed that he was not actually eating pasta. You seriously think he'd learn to trust me that I wouldn't feed him awful food by now.
Well he was sure biting his tongue. I think he actually liked the spaghetti squash more than I did, and that's saying something because I thought it was a really fun twist on pasta (plus it was healthy) and definitely something I'd do again if I can ever locate one again (I think it would make an awesome base for pad thai).
Once Dustin dug in and started ripping out the stringy, spaghetti-like insides of the roasted spaghetti squash, he admitted it was a cool-texture and was having some fun with dinner prep.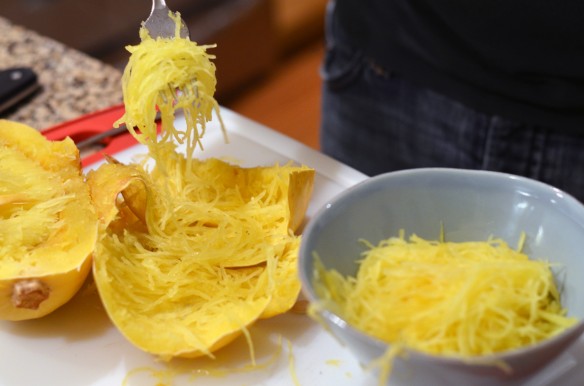 First, I roasted the squash in the oven (pricked with holes) for an hour. In the meantime I made turkey meatballs— a really simple blend of one pound of lean, ground turkey, 1 egg, 1/2 cup Panko breadcrumbs, 2 tablespoons olive oil, 1/4 cup shredded parmesan, and a mixture of salt, pepper, onion powder, garlic powder, and red pepper flakes— rolled into balls and baked in the same oven with the squash for approximately the last 20 minutes of the roasting.
Dustin scraped out the "noodles" for me, then we piled them high with meatballs, tomato-basil marinara sauce, and a sprinkling of parmesan. Dustin actually really liked the softer, more delicate texture of the meatballs compared to the crispier pan-fried version we historically have done. He wasn't even disappointed the meatballs were turkey! They were really juicy and flavorful, and it was a dinner we didn't have to feel guilty about eating— lean protein and lots of vegetable!