Sushi Date Night
For Valentine's Day, Erin bought me one of those "hey why dontcha go make this for me" kind of gifts. This time it was a sushi kit. I'm not upset though because I love sushi, and she helped empower me to create my own!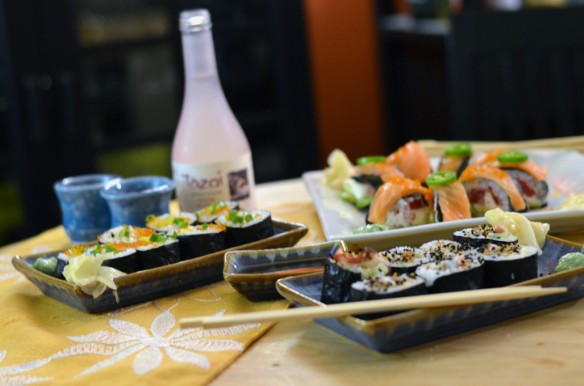 We went on a hunt across all of the Seattle area for fine sashimi-grade ingredients. We were having lunch in Ballard, so we decided to take a look at a fresh fish market there. Unfortunately, the scallops were previously frozen and the fish looked unimpressive. To Pike's Place we went, meeting up with our usual fish salesman, and ordered fresh ahi, octopus ("tako" in Japanese), tobiko ("flying fish roe" in English), and a few scallops.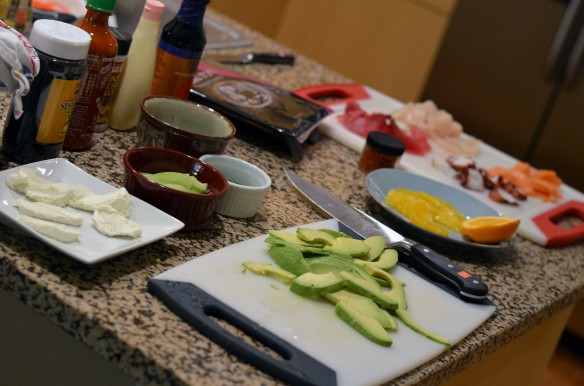 With our fresh fish in hand, we raced home to get it into the fridge, so we both wouldn't end up sick with parasites. Our next outing was for all the other ingredients we needed: veggies, sauces, rice, nori, etc. Uwajimaya, the local Asian grocery, is just around the corner from us, so this was a no brainer. They even had sashimi-grade fish there, so we picked up some salmon too. What a cool market. If only we could read what was on the labels...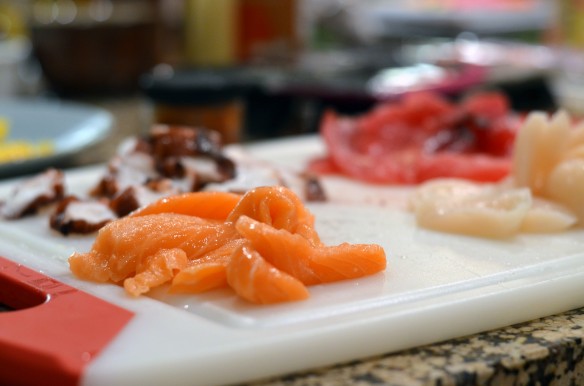 And most importantly, we picked up Sake and Sapporo.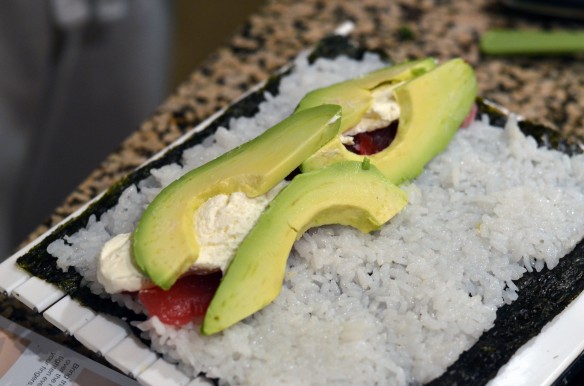 I'll let the images and descriptions of the three rolls we crafted speak for themselves, but overall everything tasted incredibly delicious, fresh, and in harmony. It took quite a bit of time, effort, and mise en place, but it was totally worth it. And as long as we live so close to fish that's this good, we'll definitely continue to make our own quite frequently I would imagine.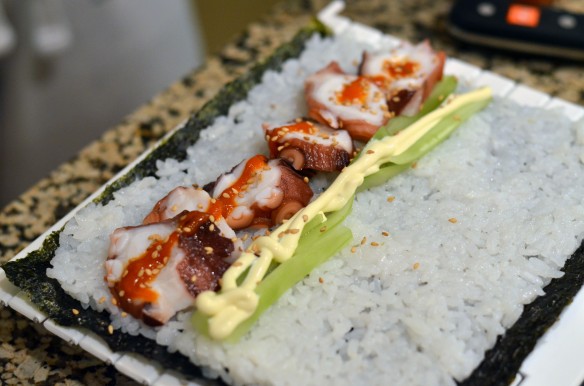 Making rice is something we screw up quite frequently, and each and every time we do, we say we need to go buy a rice maker. We have yet to make that purchase, so we just followed the instructions on the short grain Calrose rice we picked up at the Uwajimaya and watched it like a hawk. It took about 8 minutes less than the instructions said, but we ended up with a giant pot of perfectly cooked sticky rice.
Once the rice is cooked, you still aren't yet ready to add it to your rolls. You have to turn it into sushi rice. To do this, mix in 1/4 cup rice vinegar, 1 tablespoon sugar, and 1/4 teaspoon salt for every two cups of cooked rice. Then it will taste just like it's supposed to. After all those trips to sushi restaurants, now we finally know what they do to their rice to make it taste just right!
The final key to perfect sushi rice— wash it. Three times (at least). Get the yucky stuff off the grains. If you are going all out to make sushi, make sure your rice really highlights the fish instead of detracting from it.
The 'Erin'
This roll, as per its name, is the kind of roll Erin would want for her Death Row sushi meal. It's simple but has the most important ingredient: scallop.
Sea Scallop
Naval Orange
Green Onion
Tobiko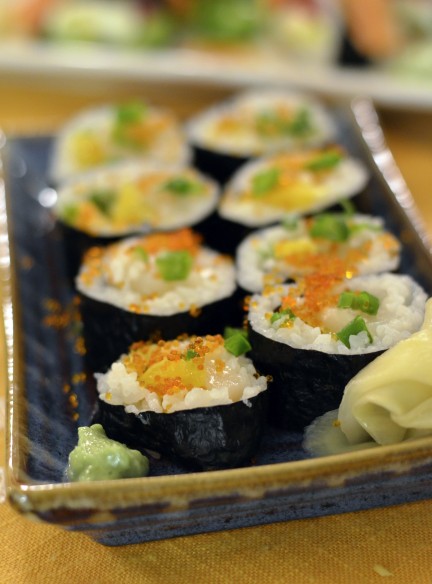 The Spicy Octo
On Top Chef Seattle, they had a Quick Fire challenge where one contestant used octopus. I thought it was such a different and difficult dish. When the guy at Pike's Place mentioned octopus as one of the few sashimi-grade ingredients in stock, I knew I had to give it a shot. It's a bit freaky looking and quite chewy, but fun and pretty different than your run-of-the-mill sushi roll.
Octopus
Cucumber (this video will teach you how to cut it properly)
Japanese Mayo
Sriracha
White & Black Sesame Seeds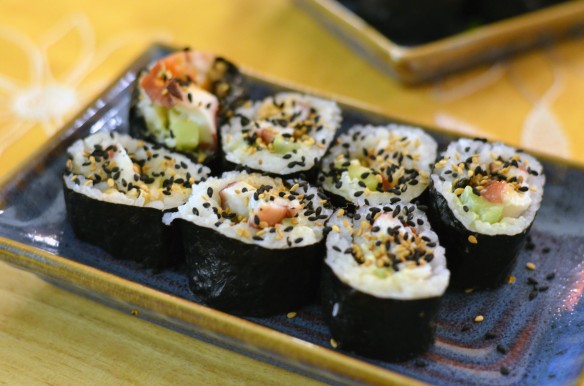 The Spicy Ahi Philly
We were really feeling like a Philadelphia Roll, but Pike's Place didn't have sashimi-grade salmon. Instead we decided to use delicious ahi instead. But when we ran into some salmon at Uwajimaya, we had to get it, too, and make the roll even that much better. The jalapeño gives this roll the much needed crunch and kick.
Ahi Tuna
Cream Cheese
Avocado
Salmon, on top
Tobiko
Jalapeño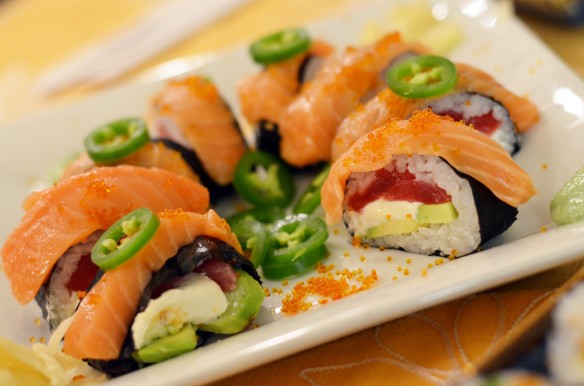 So now, I'm pretty much Shiro.