Veggie Samosas
Without a doubt, whenever we eat at our staple Indian restaurant we order samosas. We almost always get chicken tikka masala as well, but sometimes we change it up and get butter chicken. However, samosas (and naan) are always on the must order list. When it comes to making dinners at home, we are really creative and experimental, but when it comes to our favorite restaurants, we are pretty much set in our ways and predicable.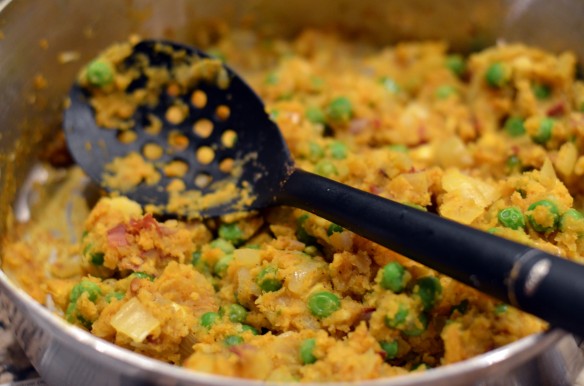 We both have surprisingly found that we are more partial to the vegetable version (usually with peas and potatoes) compared with the meat version (lamb at our place), but both are tasty. We decided to recreate the veggie ones at home, baking them instead of frying them for ease and health. They definitely weren't as good as if they had been fried, but I supposed it's better to only eat the fried ones when we go out on special occasions. It's a good thing baking is an easier method than frying, or else we might be in trouble :).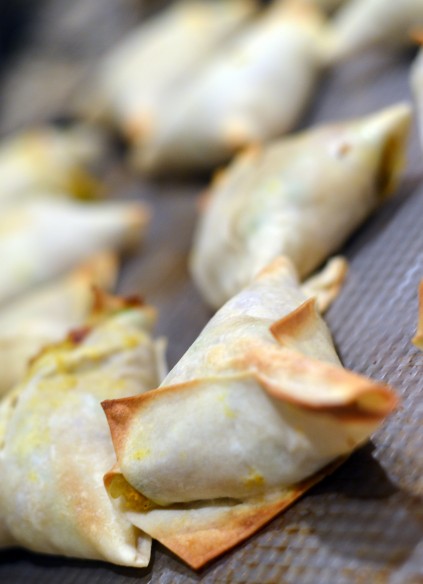 Surprisingly enough, samosa wrappers are actually not that easy to find. Indian grocer, for the win! Too bad we couldn't buy a smaller pack. $13 for a pack of 50. I guess we'll have to come up with some more samosa recipes...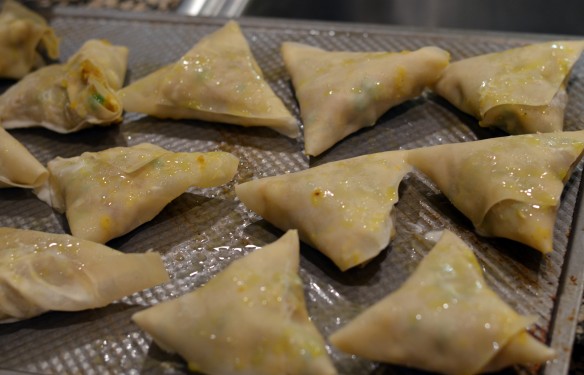 Veggie Samosas
yields 16 enormous samosas
4 large red potatoes
1 tablespoon canola oil
4 cloves garlic, minced
1 small piece fresh ginger, minced
1 medium yellow onion, chopped
2 serrano chiles, seeded and chopped
1 tablespoon ground mustard seed
1 tablespoon garam masala
1 teaspoon tumeric
2 teaspoons chili powder
2 teaspoons smoked paprika
1 1/4 cups frozen peas
1 large lemon, juiced
salt, to taste
pepper, to taste
16 frozen samosa wrappers, thawed according to instructions
Cube the potatoes and boil (we did skin on) until soft. Allow the potatoes to cool and then roughly mash them.
Preheat the oven to 400º.
In a large skillet over medium heat, heat the oil and sauté the garlic, ginger, onions, and chiles until soft and fragrant.
Add in the potatoes and peas followed by all of the spices (mustard seed, garam masala, tumeric, chili powder, and paprika) and the lemon juice.
Season with salt and pepper and adjust the other spices as needed.
Follow the instructions on the back of your samosa wrappers to assemble, and then stuff each wrapper with the filling.
Bake samosa on parchment lined baking sheet for 15-2o minutes until browned.
Allow to sit for at least 15 minutes or you will probably burn your mouth (trust me, I would know). Serve with raita and mango chutney.