Candy Bar Popcorn
Last night we planned a fun-filled evening of NCAA basketball and Zero Dark Thirty. I entered a bracket at work and went 10 for 10 at the start of the first round. I was leading the bracket all up to the last 4 games of round 1 (winner got a $25 gift card to Starbucks). All I needed was for Notre Dame, Oklahoma or UCLA (hopefully UCLA because I had them going far because of Erin's new found affiliation) to win. All three lost in pathetic blowouts. March Madness, indeed. To cheer us up we decided to make a batch of Candy Bar Popcorn.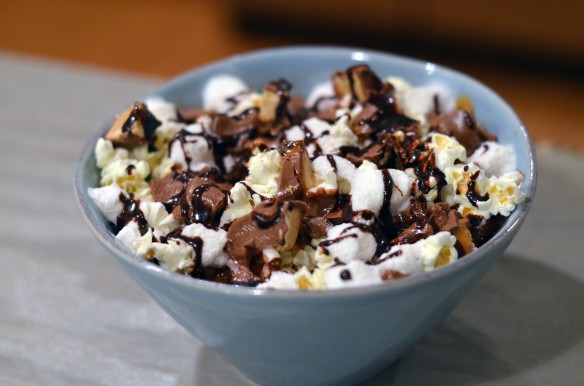 We popped some popcorn and chopped up a few different kinds of mini candy bars (3 Musketeers, Snickers Peanut Butter Squares, and Milky Way Caramels— one of each to be exact). We filled a bowl up with the popcorn and dropped the candy bar bites on top with a big handful of marshmallows. We microwaved that for about a minute (20 second intervals) until melted and gooey. Finally, we drizzled from Fran's dark chocolate sauce on top to up the decadence.
It was enough to make up for the unfortunate basketball outcomes.