Carrot Cake with Maple Cream Cheese Frosting
It's officially Spring, and Easter will be here in only a few days, and Easter means bunnies, which means carrots!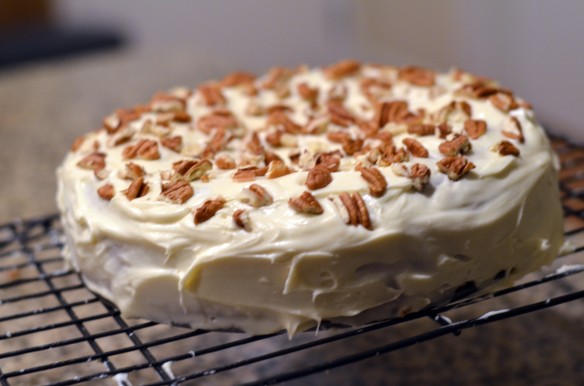 Spring is the perfect time to make carrot cake, so I set out to make my own perfect version. I was mostly successful. Taste-wise the carrot cake rocked, but unfortunately I didn't bake it quite long enough (even though I did insert a toothpick in the center that came out cleanly...), so the center was slightly underbaked which led to a little sag in the cake. No big deal though because the flavor was spot on, and we hid the sag with chopped pecans pieces (thanks to Dustin for helping me shell pecans). The cake was nice and moist, and the frosting was not overly sweet, a common problem with many carrot cakes.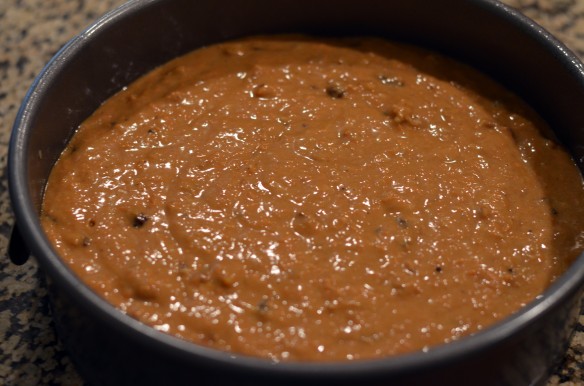 It wasn't my finest work due to the underbaking, but overall I was pretty pleased with the texture and everything else. The texture of the frosting was especially outstanding.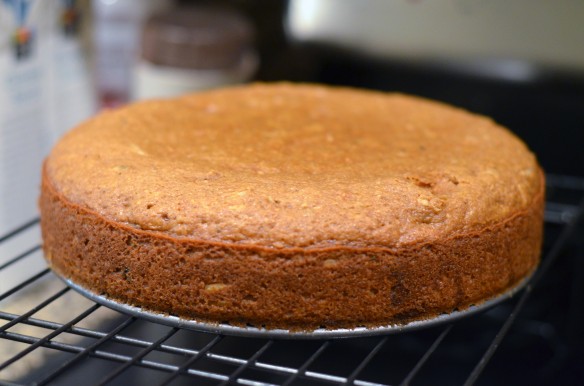 Carrot Cake
Yields one 9" cake
2 cups all purpose flour
1 teaspoon baking powder
1/2 teaspoon baking soda
1/2 teaspoon salt
1 tablespoon cinnamon
1 teaspoon nutmeg
1 cup brown sugar
2/3 cup canola oil
1/3 cup vanilla yogurt
3 large eggs
1 tablespoon vanilla extract
1 teaspoon orange zest
1 1/2 cups shredded carrots
1 cup chopped pecans, divided
1/2 cup sweetened shredded coconut
1/2 cup raisins, soaked in water for 10 minutes and drained
Preheat the oven to 350°.
In a medium sized bowl, sift together the flour, baking powder, baking soda, salt, cinnamon, and nutmeg.
In a large bowl, combine the brown sugar and oil together with a hand mixer until fluffy. Add in the yogurt followed by the eggs one at a time, and the vanilla extract until smooth.
Fold in the carrots, 1/2 cup pecans, coconut, and raisins.
Pour into a greased 9" round cake pan (the taller the better because this is a lot of batter) and bake the cake for 40 minutes (this time is longer than what I actually did so the middle will be fully baked).
Allow to cool thoroughly before removing from the pan.
Maple Cream Cheese Frosting
1 8-ounce package cream cheese, softened
1/2 cup butter, softened
1 1/2 cups powdered sugar
1 tablespoon maple syrup
1 tablespoon heavy cream
1 teaspoon vanilla extract
1/4 teaspoon salt
Cream together the cream cheese and the butter for 3-4 minutes until very light and fluffy.
Slowly add in powdered sugar and mix.
Add in maple syrup, heavy cream, vanilla extract, and salt, adjusting flavors and texture as needed.
Once the cake has cooled, spread the frosting on the top and sides of the cake.
Cover the cake with the remaining pecans.