Feta & Vodka Sauce Baked Pasta
We invited Greg over for dinner, and he's sort of become used to us making pretty awesome dinners (and desserts). It was late in the afternoon, we hadn't gone grocery shopping, and I started to worry what we could cook up to impress. I flipped through our OneNote with all our "meals to make" but nothing was finding my fancy or met the time constraints. I headed over to FoodGawker for inspiration and found it in Vodka Mac and Cheese.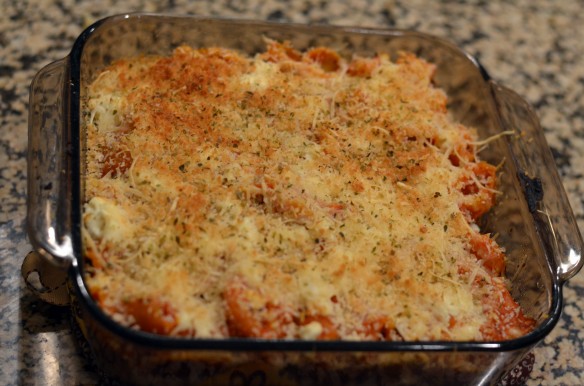 Over dinner we discussed what should constitute "mac and cheese." We settled on pasta (baked or just boiled) with an exclusively cheese sauce. Any dishes with a tomato or cream sauce CANNOT be a mac and cheese. So although this wasn't an official mac and cheese, that doesn't mean it wasn't delicious.
I made a few adjustments to the original recipe for vodka sauce. I used 4 ounces of tomato paste and 8 ounces of crushed tomatoes and upped the garlic (of course). I also deglazed the onions and garlic with 1/4 cup vodka, then added tomatoes and another 1/4 cup vodka.
This pasta was supposed to have spinach in it as well, but Whole Foods was completely out of the green stuff. So much for us trying to be healthy and eat our veggies!
This baked pasta was so yummy with the creamy vodka sauce complimented perfectly by the feta, parmesan and crispy breadcrumbs.
I think we impressed!