Oatmeal Creme Pies
Saturday was a fantastic day (not for Dustin's brackets— completely busted after a long day of bad basketball topped off by Gonzaga's loss). For breakfast, we stopped by Stumptown for coffee and Crumble and Flake in Capitol Hill for croissants before heading to Magnuson Park with Bonnie and her BFF, Ruby. The girls had so much fun running around in the lake until they were completely zonked. Right around then it was time for a late lunch, so we hit up Norm's Eatery and Alehouse in Fremont— a restaurant where you can bring your four legged friends inside with you while you enjoy your meal. Amazingly enough, the girls were incredibly well behaved. I wish more restaurants allowed you to bring dogs inside. It was so cool to see a cute dog underneath almost every table!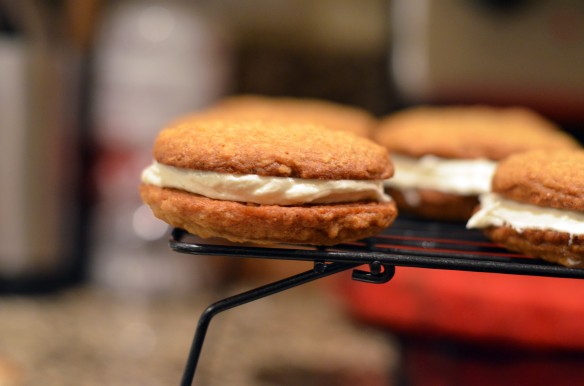 Later that evening, we got the pups together again. Dustin made dinner. Then while the guys played video games, I made these Little Debbie Oatmeal Creme Pie imitations— two soft oatmeal cookies with a layer of creamy marshmallow filling in the middle. Basically just an excuse to eat two cookies and a lot of frosting! I looked through dozens of Little Debbie copycat recipes, but wasn't super happy with any I found, so I took elements that I thought sounded the best from several recipes, combined them and hoped for the best.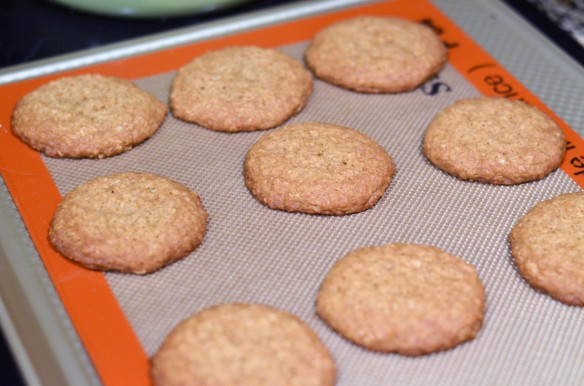 They ended up pretty epic... much better than the original (even if Dustin wasn't aware that the originals even existed!) with no partially hydrogenated oils.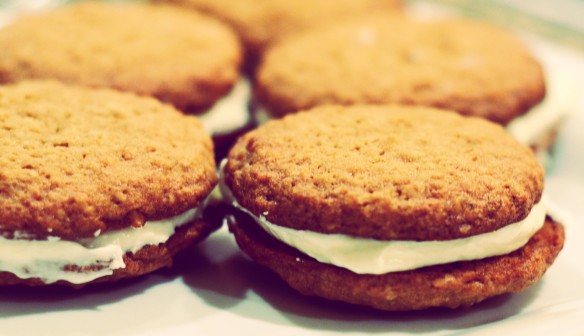 Oatmeal Creme Pies
yields 16 pies
Cookies
1 1/4 cup quick cooking oats
1 1/2 cups flour
1 1/2 teaspoons cornstarch
1 1/2 teaspoons baking powder
1/2 teaspoon baking soda
1 teaspoon salt
1 teaspoon cinnamon
1/2 teaspoon ginger
1/2 teaspoon nutmeg
1/2 cup butter, softened
1/2 cup shortening, unflavored
3/4 cup brown sugar
1/2 cup granulated sugar
1 tablespoon dark corn syrup (can use molasses if you have it on hand and want to eliminate corn syrup)
2 eggs
1 teaspoon vanilla extract
Preheat the oven to 375º. Line multiple baking sheets with silicone baking mats.
In a medium-sized bowl, thoroughly mix the oats, flour, cornstarch, baking powder, baking soda, salt, cinnamon, ginger, and nutmeg.
In a large bowl, use a hand mixer to whip the butter, shortening, sugars, and corn syrup until smooth.
Add in the eggs one at a time and the vanilla extract and mix until smooth.
Use a cookie scoop to portion out equal sized balls of dough onto the baking sheets (32 balls of dough total).
Bake for 10-12 minutes until edges are browned but the centers are still soft.
Allow to cool on the baking sheet before transferring to a wire rack to completely cool.
Creme Filling
1/2 cup butter, softened
1/4 cup shortening, unflavored
1 7-ounce jar marshmallow creme
1 1/2 cups powdered sugar
1 teaspoon vanilla extract
1/2 teaspoon salt
Use a mixer to whip the butter and shortening until light and fluffy.
Add in the marshmallow creme and mix.
Slowly add in powdered sugar and mix.
Beat in vanilla and salt, mixing until smooth.
Once the cookies are completely cooled, use a knife to spread the creme onto the bottom of cookie, then take another cookie and make a sandwich. Best served on the same day!