Samoa Cupcakes
To distract myself from officially making the biggest decision of my life (I think I know where the best fit is but I just can't quite commit), I am baking. A lot. Nothing to drown the overwhelming thoughts of my overactive brain, like loads of sugar. Good thing we upped our time at the gym. The day I made these we actually used our free training session at the fancy gym, so perhaps we burnt off a few of these extra calories!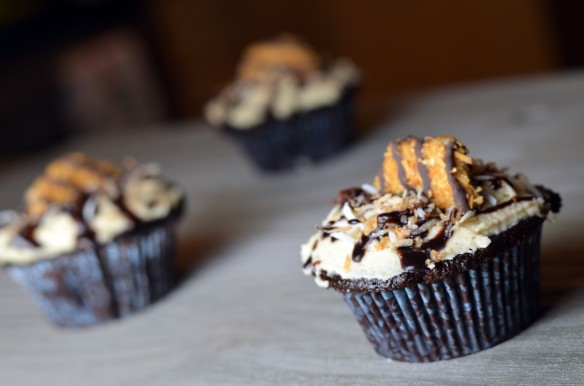 I wanted to make something with a lot steps to really drain the minutes away when I saw the box of caramel delights (I prefer to call them samoas) sitting on the counter, and I knew that was the right flavor combination to tackle today.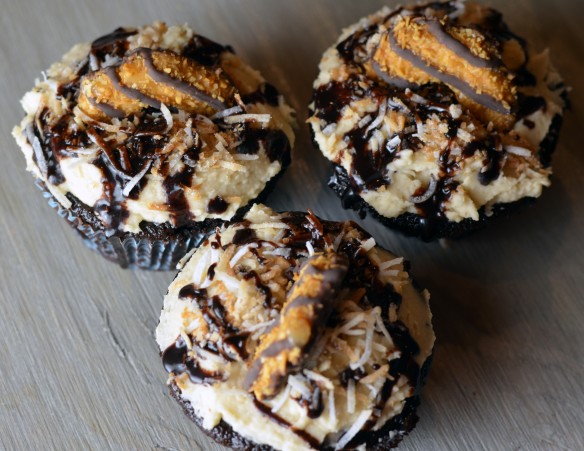 First I made chocolate cupcakes to represent the samosa bottoms. I wanted to make a fairly small batch of cupcakes, so I searched and found a simple enough small-batch recipe that I slightly adapted from Dollhouse Bakeshoppe that served 8 (large!) cupcakes. My batch actually had enough for 9 :)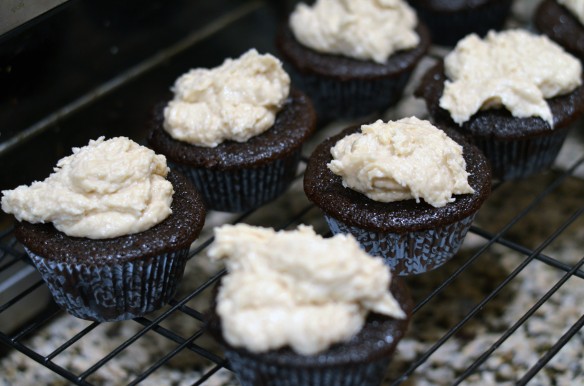 While the cupcakes were cooling, I made a quick caramel sauce and added it to a simple vanilla buttercream. Finally, I toasted some shredded coconuts on the stovetop for about 10 minutes on medium heat until nice and browned, making sure to constantly keep the coconut moving so it doesn't burn.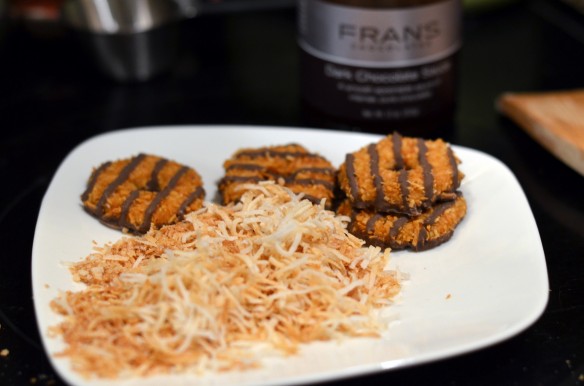 The 3Cs: Chocolate + Caramel + Coconut = Life's Problems Solved (at least until there aren't any crumbs left).
Samoa Cupcakes
yields 9 cupcakes
Chocolate Cupcakes
3/4 cup all purpose flour
2/3 cup granulated sugar
1/3 cup unsweetened cocoa powder
3/4 teaspoon baking powder
1/2 teaspoon baking soda
1/4 teaspoon salt
1/3 cup buttermilk
1 egg
2 1/2 tablespoons canola oil
1/2 teaspoon vanilla extract
1/3 cup strongly brewed coffee
Preheat the oven to 350º.
Line a cupcake pan with liners.
Sift together flour, sugar, cocoa powder, baking powder, baking soda, and salt.
In a small bowl combine the buttermilk, egg, canola oil, vanilla extract, and coffee.
Slowly add the wet mixture to the dry mixture and mix until smooth.
Use a cookie scoop to divide the batter between the 9 cupcake liners
Bake cupcakes for 17-19 minutes or until a toothpick inserted into the center comes out cleanly.
Cool in the pan for 10 minutes and then remove to cooling rack. Allow to completely cool before frosting.
Caramel Buttercream
1/4 cup heavy cream
3/4 cup brown sugar
1/2 cup butter, softened and divided  (1 tablespoon + 7 tablespoons)
hefty pinch of salt (the salt really punches this cupcake up!)
1 tablespoon vanilla extract
2 cups powdered sugar
In a small saucepan, combine the brown sugar, heavy cream, and one tablespoon of butter over medium-high heat, stirring constantly with a wooden spoon.
Bring to a boil (still stirring) and cook for 5 minutes.
Remove from the heat and stir in vanilla extract and salt. Allow to cool to room temperature.
In a large bowl, whip the remaining 7 tablespoons of butter with a hand mixer until fluffy.
Slowly add in and incorporate the powdered sugar 1/3 cup at a time.
Pour in the caramel sauce into the frosting. Add additional powdered sugar if the buttercream needs thickening.
Assembly
1/2 cup toasted coconut
1/4 cup dark chocolate sauce or melted chocolate chips
4 samoa cookies, broken in half (for garnish-- not absolutely necessary if it's not Girl Scout Cookie season)
Frost the cupcakes with the caramel buttercream.
Sprinkled tops with toasted coconut.
Dip the tines of a fork into chocolate and drizzle over the top.
Top the cupcakes with half of a samoa cookie.