Coconut Macaroons
Looking for a Passover friendly dessert to bring to our Easter Sunday Passover Seder, it seems the two things common for Passover that I kept coming across were flourless chocolate cake and macaroons. I chose to go with macaroons because they were super easy— at least the ones I made were super easy!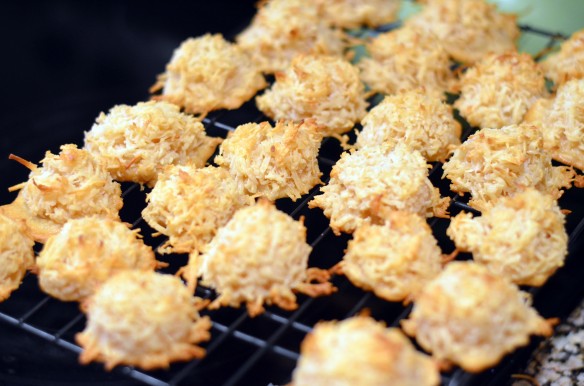 I thought about dipping or drizzling them with melted chocolate, but we ran out of time to take that extra step, so I think I will save that for another Passover. Without anything "extra" whatsoever these basic macaroons are quite simply perfect. Dustin says they are the best he has ever had.
These were a great way to finish off the Seder. Actually we ate these right before the boys set out to find the afikomen, cleverly hid by Stephanie in an oven mitt sitting on the counter of our 800 square foot apartment in clear sight. Despite literally touching it several times (and almost stepping on it many more, which shows the crazy places they had started looking), it took the boys approximately 1 hour and 15 minutes and LOTS of clues to locate the hidden matzah. The girls had a great time watching the "frustration" of the boys as they couldn't locate the Afikomen. For their prize...leftover Hannukah gelt. Probably not worth their effort :)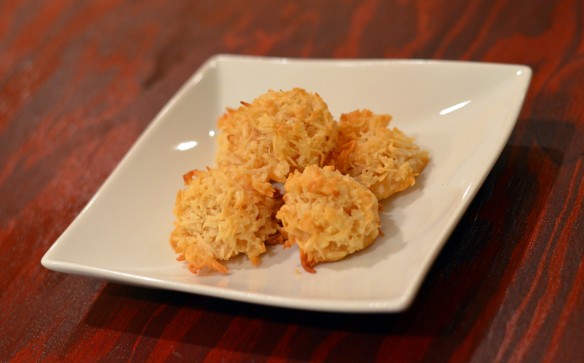 Coconut Macaroons
yield ~2 1/2 dozen
1 14-ounce can sweetened condensed milk
1 large egg white
1 teaspoon almond extract
1 teaspoon vanilla extract
1/4 teaspoon salt
12 ounces sweetened shredded coconut
Preheat the oven to 325°. Spray two parchment paper lined baking sheets with nonstick cooking spray.
Combine the condensed milk and the egg white.
Add in the almond and vanilla extracts plus the salt.
Stir in the coconut until coconut is thoroughly and evenly covered by the milky mixture.
Use a cookie scoop to scoop out balls of the "dough" (it will be fairly sticky, and you may need to put it in the fridge to firm up for a few minutes) and place on the baking sheet.
Bake for 16-17 minutes until the edges are browned.
Allow to cool on the baking sheet for several minutes before moving to a wire rack to finish cooling.