Doughnut Soup
This dessert doesn't look like much in the pictures, but trust me, it is rich and luxurious— doughnut in thick, rich, liquid form.
There is a "molecular gastronomy" restaurant in Chicago called Moto that pioneered the idea of doughnut soup. Ever since I heard about it, I've been wanting to recreate it at home. Since the weather will (hopefully) be making a turn for the better soon, I figured it was a good idea to make doughnut soup. Warm desserts are best served when it's cold and dreary outside.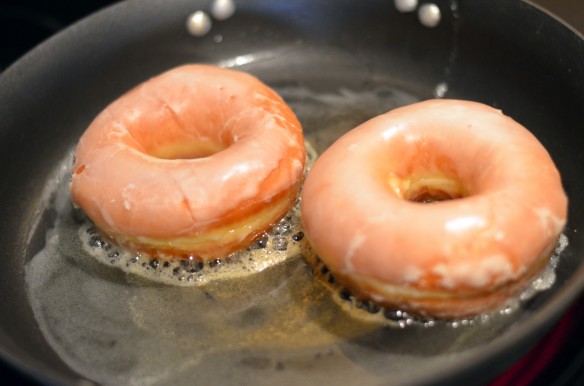 I  made this for our Game of Thrones premiere party. We had to wait a week for our neighbors to get back into town to start season 3, so we had a double feature evening with lots of good, indulgence-worthy food. Dustin made a fabulous, fancy appetizer, our neighbors grilled us filets, and I made a doughnut soup. We also brought over our magnum bottle of wine we bid on at the Pawsitive Alliance fundraiser we went to last month. Watching Sunday evening HBO shows has become a fun weekly tradition for us, and I know Bonnie was excited to get back in the swing of things to see her BFF.
This soup is super easy to make, and actually not as sweet as you think it would be considering the main ingredient is glazed doughnuts. Dustin said I should make my own homemade doughnuts for this, but I definitely took the easy way out and stopped by Top Pot to get the base of this dessert.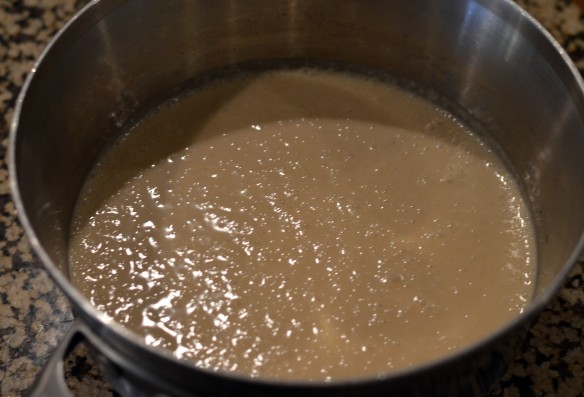 First, you begin by caramelizing the sugary glaze on the doughnuts, then you add the doughnuts with heavy cream, milk, vanilla extract, and a pinch of cinnamon. If you want it a little sweeter, you can add in a bit of sugar, too. This soup is very rich, so you don't need a ton to feel satisfied. I think it would be perfectly served in a coffee cup and maybe with a mini doughnut or doughnut hole as an additional garnish.
Doughnut Soup
adapted from CakeSpy; inspired by Moto
2 large glazed doughnuts
1 tablespoon butter
3/4 cup heavy cream
1 1/2 cups low-fat milk
1 teaspoon vanilla extract
1/2 teaspoon cinnamon, plus more for garnish
In a large skillet, melt butter over medium-high heat. When the butter becomes bubbly, add the doughnuts to the pan and fry until the sugar caramelizes.
Cut each doughnut into several pieces, then add to a blender. Add in the heavy cream, milk, vanilla, and cinnamon.
Blend until mostly smooth or desired texture is reached (mine still had a few small chunks of doughnut in it).
Heat the soup in a saucepan until desired temperature is reached.
Pour into small bowls (or coffee mugs), garnish with additional cinnamon (and mini doughnuts or doughnut holes), and serve.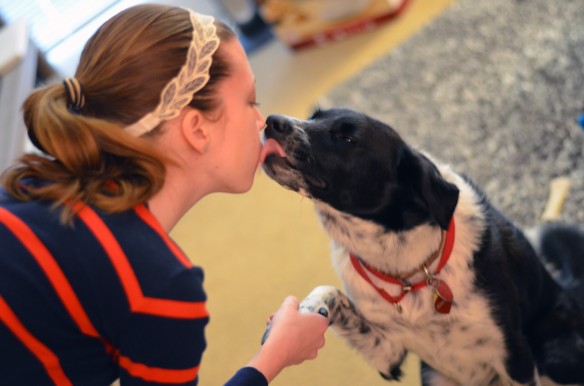 It was so yummy, Bonnie tried to get a taste second hand.