French Onion Grilled Cheese Sandwiches
Apparently, April is National Grilled Cheese Month. I randomly heard (or probably read) that somewhere the other day. I think it's kind of silly how practically every food has it's own month or day, and we mostly definitely didn't plan these sandwiches because of National Grilled Cheese Month. It was just a happy coincidence. We like to celebrate and eat grilled cheese sandwiches all month long. I'm not much of a sandwich person, but when I do eat them, I like the grilled on the panini press and covered in ooey gooey cheese. I think cheese is honestly what I'd miss most if I became vegan. And perhaps the occasional cheeseburger (seeing a pattern...my favorite meals always involve cheese).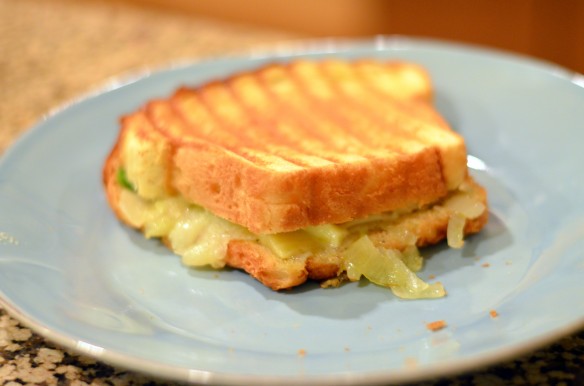 A French onion grilled cheese is simply just gruyere with slowly caramelized, sweet onions grilled on buttered brioche bread. We tried to think of an extra clever twist to add to the sandwiches, but couldn't really come up with anything, so we added a little spinach and some mustard. The real star is the basic combo of warm melted gruyere and melt-in-your-mouth onions. So good.