Halibut with Black Bean & Corn Salsa + Baked Avocado Fries
Halibut dinner number two was another delicious one. I think halibut goes well with just about everything, including a delicious corn and black bean salsa that we put on top.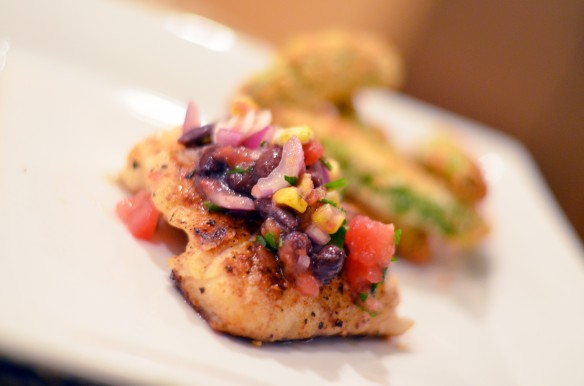 To make the salsa, combine 1/2 of a large, diced red onion, with 1 fresh tomato, 1 can of diced tomatoes with jalapeño and cilantro, 1/2 can of drained black beans, a handful of chopped cilantro, 2 cloves of minced garlic, and 1/2 cup dried corn.
This time around, instead of grilling, we blackened the halibut on the cast iron skillet in some butter with salt, pepper, paprika, and cumin, until the outside was nice and crispy, but the inside was soft and tender.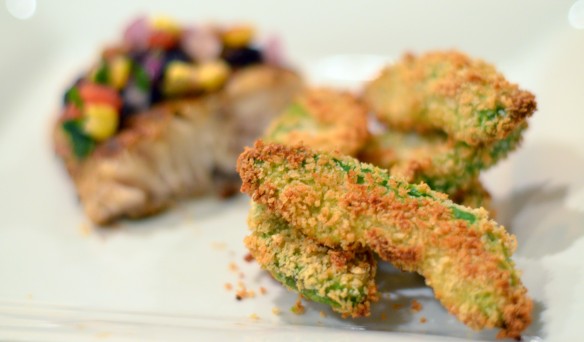 We intended to make our own plantain chips with the dish, but plantains were mysteriously absent from Whole Foods, so we had to improvise a side dish on the spot at the grocery. When avocados caught my eye, baked avocado fries were decided upon. While prepping the halibut, we preheated the oven to 450°, dredged some avocado slices in flour and egg, and coated them with panko breadcrumbs and baked them for about 15 minutes until the breadcrumbs had browned. They were good served with chipotle sour cream as a dipping sauce, but next time I think I would add some seasoning to the breadcrumbs to give them a little extra flavor.