Nutella and Strawberry Pepper Jam Crepes
These crepes are some of the best brunch food we've made in a while. We've put off making crepes because we didn't have all of the right equipment and pans, but you really don't need special equipment to make these ultra thin pancakes, and they really aren't as delicate as you'd think. I was terrified we'd rip them, but they came out quite beautifully.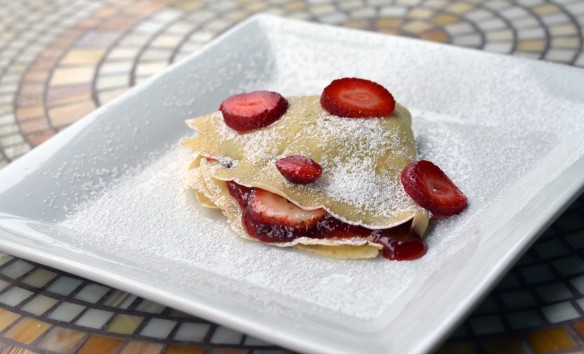 Nutella is an obvious crepe ingredient, and I guess so is jam. But this jam also adds a spicy and unexpected kick to the crepes that really takes them over the edge into amazingness. We tasted a sample of this jam walking through Pike's Place Market, and I knew I had to have this jam to make crepes with. It creates the perfect balance of sweet and spicy. Topped with some freshly sliced strawberries and a sprinkling of powdered sugar, these crepes were definitely restaurant-worthy.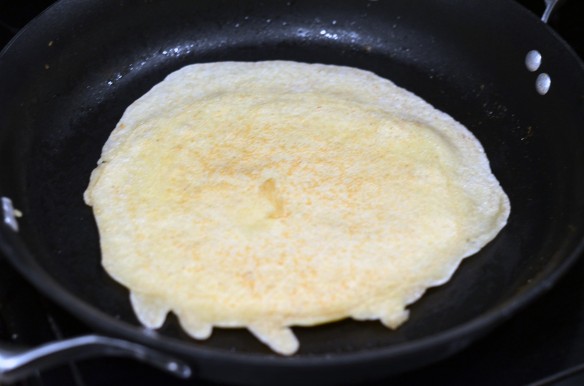 We also used brown butter in the crepe batter and to cook them for extra deliciousness.
Nutella and Strawberry Pepper Jam Crepes
yields 4 large crepes
3 tablespoons butter
1 cup all-purpose flour
2 eggs
1/2 cup whole milk
1/2 cup water
1/4 teaspoon salt
1/2 cup Nutella
1/2 cup strawberry pepper jam, or other favorite jam
1/2 cup strawberries, sliced
powdered sugar, for sprinkling
Melt the butter over medium-high heat in a large non-stick frying pan. Allow it to cook for approximately 5 minutes until brown in color and nutty in fragrance. Transfer butter to a small bowl to cool, leaving a thin layer in the bottom of the pan to cook the crepes.
Mix together the flour and eggs until combined.
Slowly add in the milk and water, continuing to mix.
Add in the salt and browned butter, and mix until a thin batter is formed.
Ladle about 1/4 of the batter on to the hot frying pan and quickly move in a circular motion until the batter coats the bottom of the pan evenly.
Cook for about 2 minutes until golden brown, then gently flip with a spatula and cook until the other side is also browned. Repeat steps 5-6 with remaining batter.
Allow the crepes to cool for several minutes before spreading a layer of Nutella, jam, and a few sliced strawberries in the middle. Fold crepe into quarters then top with remaining sliced strawberries and powdered sugar.
adapted from All Recipes
We will definitely be trying some savory versions (and maybe a few more of the sweet persuasion as well) in the near future!