Oatmeal Banana Bread Scones
I really haven't been intending to bake this much. I promise we haven't gained a million pounds as a result. But I've just been feeling very antsy lately with my big decision made. I feel in this weird state of limbo now. Baking is one of the few things keeping me entertained at the moment (besides my sweet Bonnie), so I'll enjoy these last few months of free time by making all sorts of desserts and breakfast treats.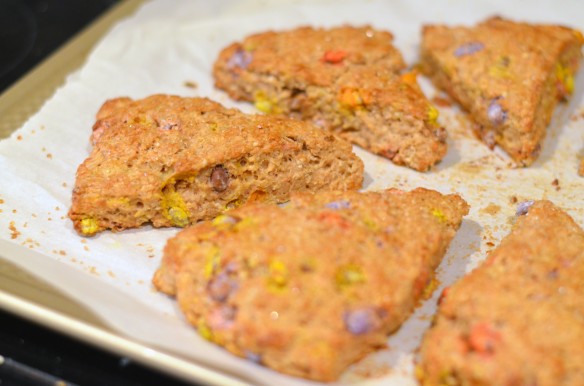 I had a couple of overly ripe bananas sitting on the counter, and I didn't want to make banana bread or muffins. I finally settled upon making banana bread scones after seeing a recipe on a blog I frequent. But the similarity between my recipe and the recipe I found stops at the name and the basic flavor profile. I tried to make it a fairly healthy scone, and I think I succeeded. Plus, they still tasted great. Dustin took the leftovers to work and put them next to a couple of big boxes of Top Pot Doughnuts, and said that the scones went faster than the doughnuts!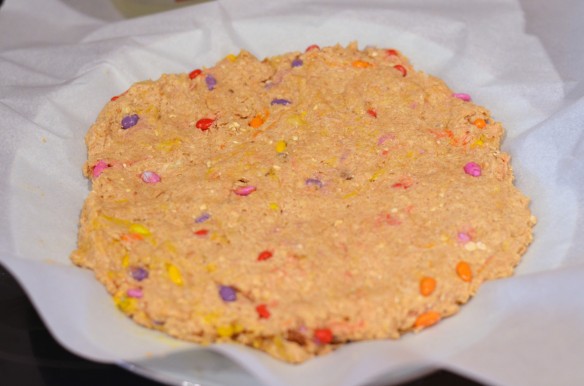 Last week at Trader Joe's we bought a container of chocolate covered sunflower seeds. Every time I go into Trader Joe's, I want to try one of the unique looking treats or snacks I always see and am tempted by. Dustin and I decided each time we go in there, we will allow ourselves to try one of these indulgences. It was difficult to pick only one thing, but I just went with my gut and walked out with chocolate covered sunflower seeds. I'm looking forward to slowly but surely try all of the fun things along the shelves at Trader Joe's. The chocolate covered sunflower seeds give these scones a festive and 'funetti' look while adding more crunch than your typical chocolate chip, yet still giving you the all important chocolate flavor.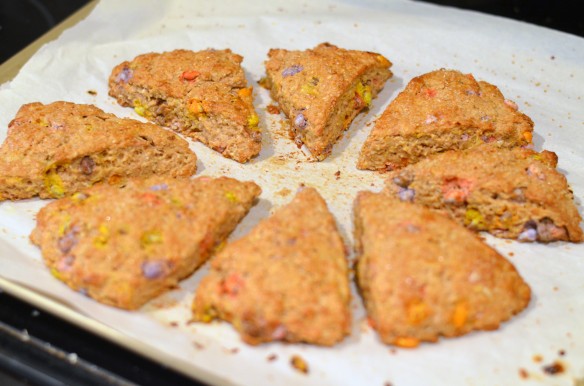 Oatmeal Banana Bread Scone
3/4 cup all purpose flour
3/4 cup whole wheat flour
3/4 cup quick cooking oats
1 tablespoon cinnamon
2 teaspoons baking powder
1/2 teaspoon salt
2 very ripe bananas, mashed
1/3 cup vanilla yogurt (I used fat free)
1/4 cup almond milk
2 tablespoons coconut oil
1/4 cup honey
1 teaspoon vanilla
4 tablespoons butter, cold and cut into small pieces (I actually used 2 tablespoons of butter and 2 tablespoons of Earth Balance)
1/2 cup chocolate covered sunflower seeds (or chocolate chips if you don't have them)
1 egg + tablespoon of water
raw turbinado sugar, for sprinkling on top
Line a baking sheet with parchment paper.
In a large bowl, combine flours, oats, cinnamon, baking powder, and salt.
In a medium bowl, combine the mashed bananas, yogurt, almond milk, coconut oil, honey, and vanilla with a wooden spoon. Set aside.
Use a pastry blender to cut the butter (or Earth balance) into the flour mixture until there are no longer large chunks of butter.
Add the wet banana mixture to the flour mixture and mix until just combined.
Fold in the chocolate covered sunflower seeds or chocolate chips.
Place the dough on the lined baking sheet and form into a large, flat disc approximately 1" thick.
Cover with a dish towel and place in the freezer for at least half an hour to harden.
Preheat the oven to 400º.
Remove from the freezer and cut the the disc into 8 triangles. Spread the scones apart, as they will puff out during baking.
Bake for 27-28 minutes until golden brown.
Allow to cool on the pan for several minutes and then transfer to a wire cooling rack.