Smoked Salmon Pasta Shells with Mint
I saw the addition of freshly chopped mint to a creamy pasta with smoked salmon on a menu while looking online at a restaurant we were heading to soon. It definitely piqued my interest, and I planned on ordering it, but sadly when we showed up to the restaurant, the menu had rotated and the online menu hadn't been updated. I thought it might be a fun thing to recreate while we still lived so close to the best smoked salmon ever.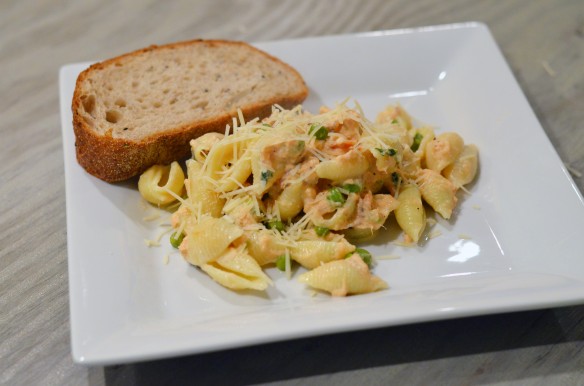 First we sautéed some chopped onion and garlic in olive oil. Then we added in half a bag of frozen peas to add some veggies to the dinner. Next we added in approximately 3/4 cup half-and-half, a few tablespoons of heavy cream (to thicken it up a bit), and the juice of half a lemon (to brighten it up a bit) and brought that to a boil. We reduced the cream sauce to a simmer and let it cook for a few minutes, then added in approximately 1/3 of a pound of smoked salmon pieces and 1/3 cup chopped mint. Despite any initial concerns of a weird flavor combination, the mint went really well with the smoked salmon, and I personally found myself wishing for even more mint in each bite. All the while, we boiled some pasta shells to al dente then added them to the cream sauce, coating well to get the sauce into all of the nooks and crannies. Plate with a bit of parmesan and dive in.