Victoria, B.C.
To celebrate our one year wedding anniversary last Sunday, we took a trip to visit our Canadian neighbors in the quaint little city of Victoria, British Columbia.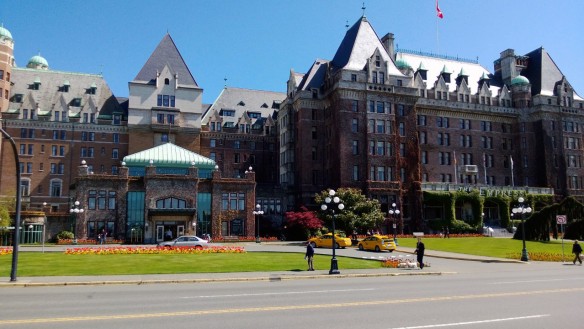 Getting to Victoria is a painless passenger ferry ride on the Victoria Clipper from Seattle through Puget Sound, the Straight of Juan de Fuca, and finally the Salish Sea. We left early Saturday morning and the waters were pretty choppy as we entered Canadian waters, but we were rewarded with beautiful sunny and only slightly chilly weather. Our trip started off with a short tour of the city as we drove up to Butchart Gardens, a series of beautiful gardens that were formerly the private gardens of a wealthy Canadian family, located north of the city.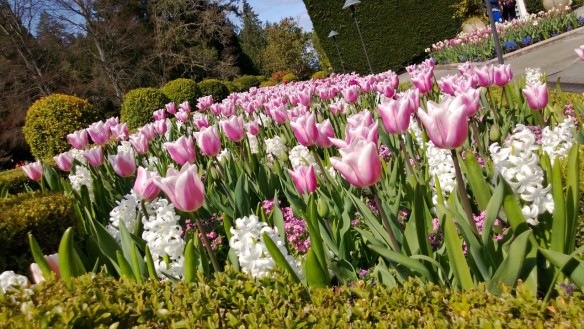 The tulips and all of the gorgeous flowers were in bloom as we strolled through the gardens. We couldn't have asked for a more beautiful place to relax and begin our celebration.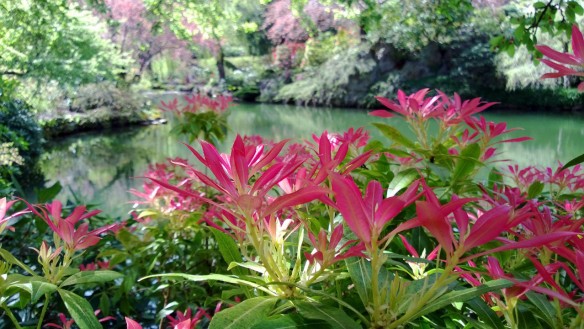 For dinner that evening we were spoiled at Ulla, an unpretentious restaurant with fabulous food that scores an impressive 29 of 30 on Zagat, the main reason we chose to dine at this establishment. Our expectations were quite blown away. We started out debating between the tuna tataki and the scallop boudin blanc. We ended up going with the scallop boudin blanc because of the unique description given to us by our waitress, a light and airy white sausage made to look like scallops. The "scallops" laid resting on potato puree along side squash, pumpkin seeds, and sunflower sprouts.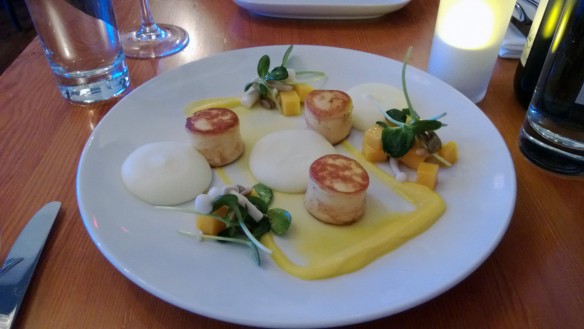 Our entrees were outstanding as well. I got the halibut, cooked simply yet perfectly, on a bed of black chickpeas and cauliflower with charred yogurt, curry, pakoras (fritters), and spinach.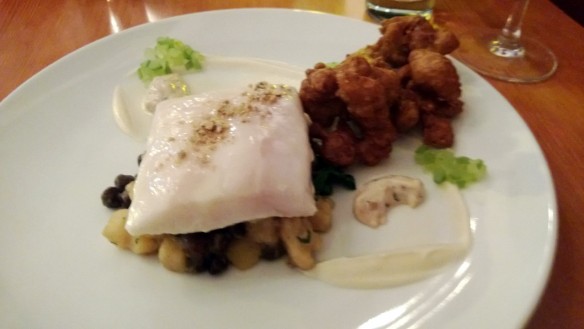 Dustin ordered the shortrib steak and corned beef with potato roesti (fancy looking hashbrowns), onion, and garlic jus. The menu descriptions sound so simple and don't really reveal the depth and complexity of the flavors you will be served on a plate. For instance, the plainly listed "Corned Beef" was the smokiest, most interesting, and most unique corned beef Dustin had ever had. Each component sat apart on the plate, elegantly tied together with wisps of a fascinating onion sauce. Every part, executed perfectly, came together in this picturesque plate to create one of the best entree's of his life.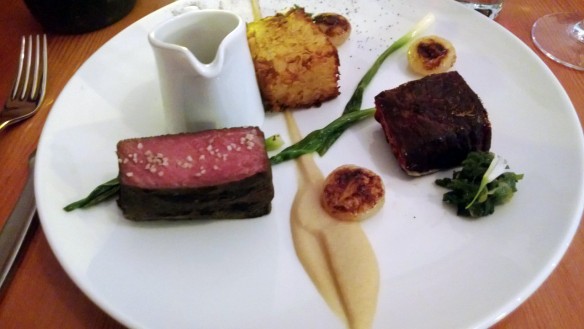 For dessert we ordered the flourless chocolate cake with crispy aerated chocolate pieces, chocolate soil, and dulce de leche. Don't get us wrong, the dessert was great and a nice way to end our dinner. And after any other meal, we probably would have thought it was fabulous, but the appetizer and entrees were definitely superior to our dessert, which I think tells you quite a bit about our first two courses. Hands down, we highly recommend Ulla and would go back in a heartbeat if we ever find ourselves in Victoria again.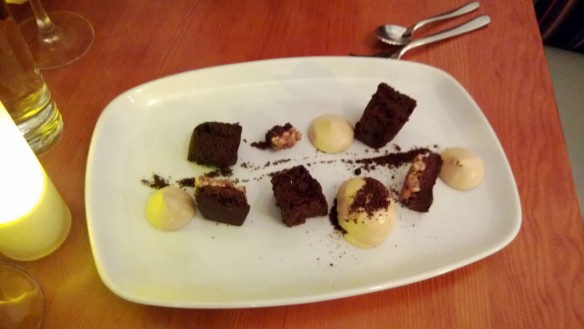 Sunday, our actual anniversary day, we took it easy, starting the day with a lazy morning and breakfast in bed. We spent the afternoon wandering the downtown area, particularly the shops along Government Street. We stopped at Roger's Chocolates, a famous chocolate shop from British Columbia and picked up some of their Victoria Creams.We also picked up a number of small souvenirs, maple candies and cookies, and several kind of teas from Murchie's. Unfortunately, the weather wasn't as nice on Sunday. Seattle's weather followed us as we got clouds and rain. We were "forced" to duck into a Scottish pub for fish and chips and beer/cider to escape it and get warm.
Later that evening we had dinner at the Empress Room in our hotel (the impressive and historic Fairmont Empress).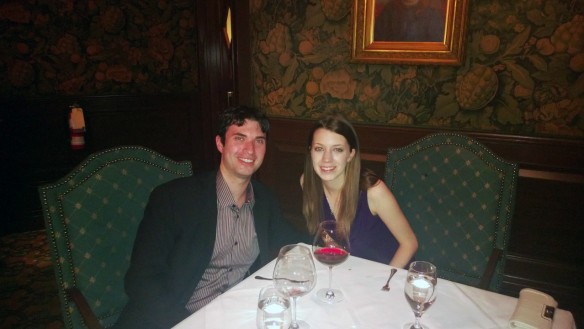 We were a little spoiled by the food at Ulla the night before, and our dinner was not as good. However, the ambiance of the dining room and the service was superb. We told them it was our anniversary as we were being seated, and we were treated to a special surprise upon the delivery of our dessert.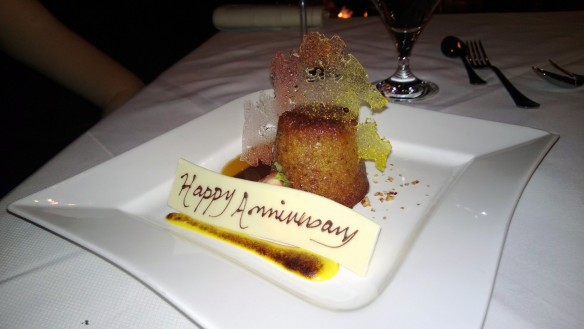 On our final day in Victoria, we went out to the ever popular Tim Horton's for coffee and donuts because it felt like the Canadian thing to do. It was just alright. I much prefer my Seattle donuts and coffee, thank you very much. We also stopped by Bond Bond's bakery for Nanaimo Bars. If you haven't heard of Nanaimo bars (I hadn't until recently) or tasted them (I hadn't until this trip), they are a British Columbia speciality dessert, originating in the city of Naniamo located north of Victoria. The bottom layer is a dense chocolate square with nuts and coconut covered in a luscious buttercream topped by a layer of shiny, hardened, pure and simple chocolate. Absolutely delicious and definitely something to make. Yes, we had a very balanced breakfast.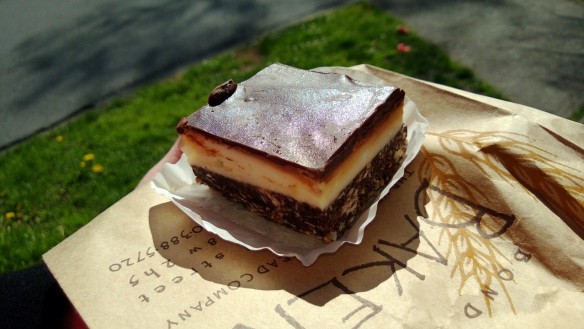 Next we walked a couple of miles over to Craigdarroch Castle, an old historic home for a tour of what life was like for the wealthy in the late 19th century.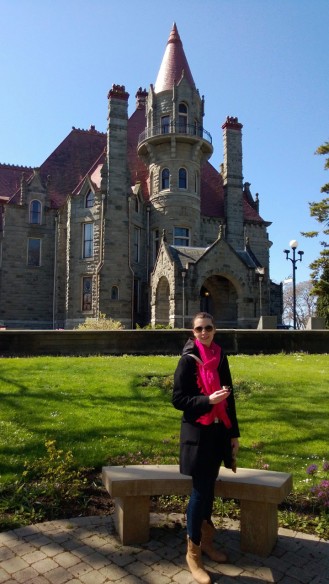 We spent the early afternoon walking around the city some more, enjoying shopping areas, Chinatown (Canada's oldest), and the area near the harbor. We sat in front of the fountain at the British Columbia Parliament building, enjoying the architecture and once again, beautiful weather.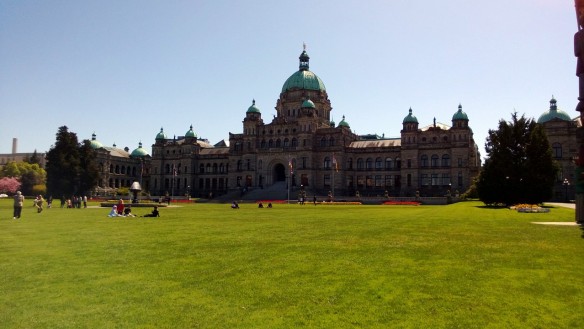 Following our explorations, we had a late afternoon tea at the Empress Hotel. Wonderful finger sandwiches, scones with clotted cream and jam, and many petit desserts alongside some wonderful tea. It was truly the perfect way to cap off our trip before heading back on the Clipper.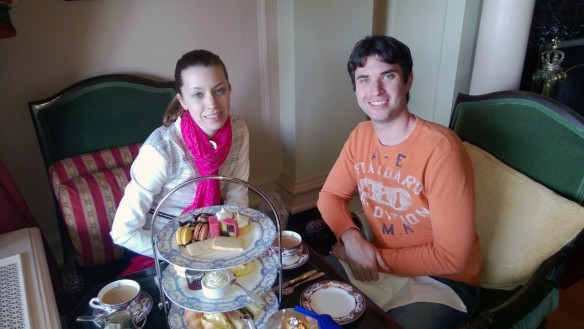 And Bonnie is happy we are home now.